KR Fairy Tale Forest Tileset for RPGs v2!
A downloadable asset pack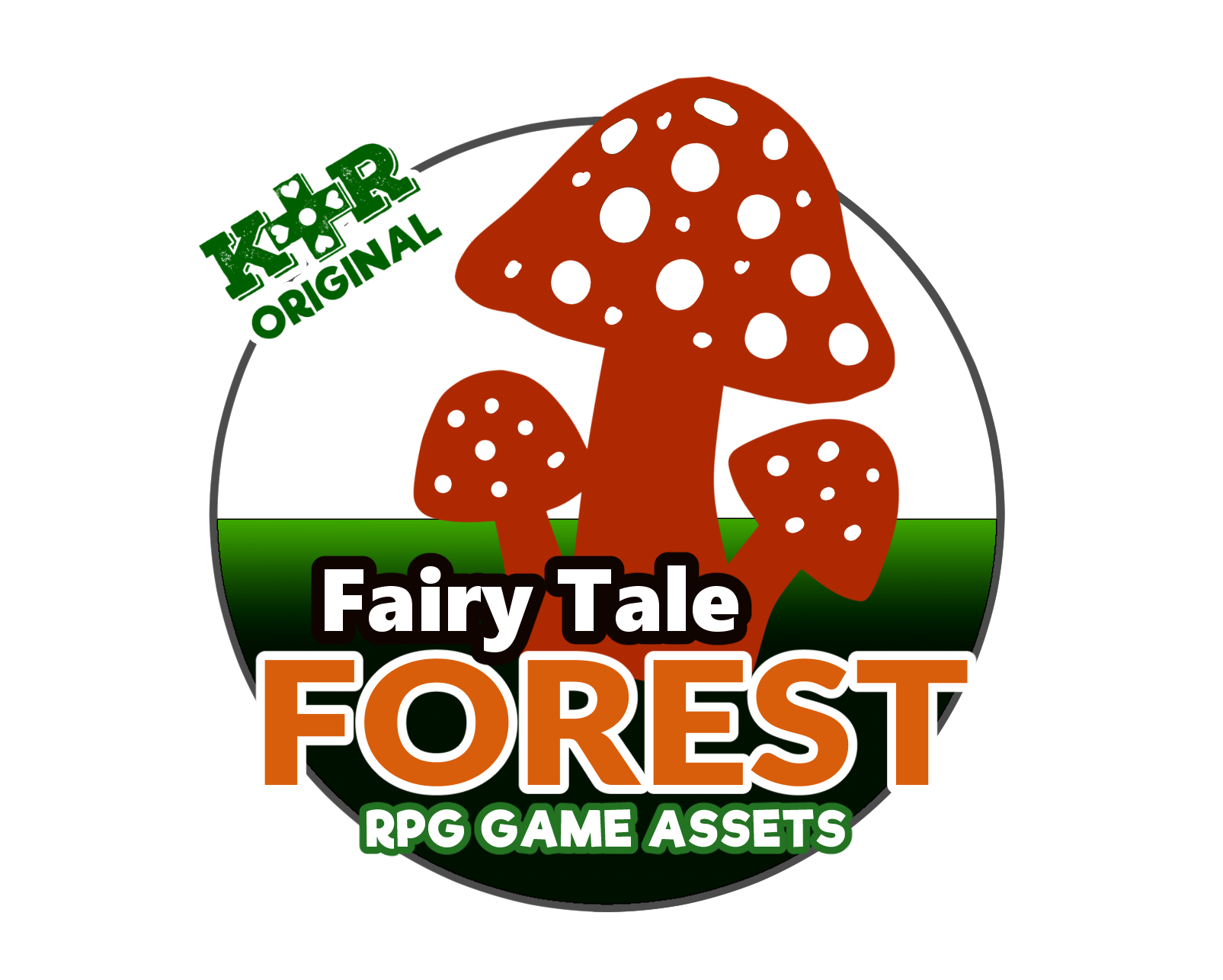 KR Fairy Tale Forest Tileset for RPGs v2!
NEWLY UPDATED with major art updates, sample maps, new edge tiles and more! (But you still get v1 as well!) Forest tileset for RPG Maker, Unity, Godot, Tiled and more!
Tree houses. Mystical lights. Giant mushrooms. A plain ol' forest won't cut it and neither will a plain ol' forest tileset.
Hanging out in the woods shouldn't be boring for your characters or your players. And it doesn't have to be. Make your mystical forest maps more lively with giant shrooms, treehouses and more! Your elf friends will thank you.

This Forest Tileset includes:
Ground tiles:
Water
special grass edge and loamy dirt
lots of bushes and ground covers, including wildflowers, rocks, cracks, lilypads and thorns
a table with flowers and vines
a rustic fence
Walls:
stucco, damaged wall, several rock and brick textures
wood panel
several greenery walls, with roses, thorns, bark and more natural effects
matching roofs with tile, scale, green thatch, wood, shrub and more!
Also includes:
Interior:
matching stairs for many ground tiles, plus sideways staircases (with descending variant) ladders, climbable vine rope
lots of cute windows
shelf system with customizable contents
four headboards + lots of bedding types (mix and match), bunk bed with three quilt colors
bathroom furniture
rock fireplaces
cheerful curtains, including a vine version!
flower lights
lots of furniture, including a butterfly pattern table and chairs
kitchen furniture…several antique stoves, mix and match cabinets, and food items.
And exterior:
decorative rock formations
two swings and two gazebos (one with vine and one without)
customizable horizontal bridge with 4 railing types (with vines, flowers and jewels, and without)
stone bridge in vertical and horizontal
gardening supplies, pools and water features
lots of signs, posts and lights
7 door styles in various shapes and sizes
Also featuring:
Giant mushrooms! Make your forest unique with several styles of bright and colorful mushrooms, including one so big you can walk on it! (comes with walkways)
Unique roofs and building materials!
Your houses will be unlike any other with our custom mushroom and flower roofs. Just plop them on top of a small building. We even threw in another sheet with more variations!
Using special tiles on the E sheet, you can even make rounded buildings that are a great match for the mushroom house tops!
Events and Animations (RPG Maker format, may work with your engine):
Includes 6 animated doors!
Bonus Trees!
We threw in a whole file of extra trees and shrubs from our Trees and Foliage Super Pack, color coordinated and ready to go!
Sample Maps (RPG Maker MV/MZ format)
Check out our samples if you need a little inspiration!
The Fairy Tale Forest tileset includes 48×48 and 32×32 versions of all tiles. You will receive tilesets formatted for RPG Maker, plus other sheets suitable for use in any engine that can use variable width tilesets.
See our list of engines we've tested here, plus information on compatibility.
Commercial use rights included.

Purchase
In order to download this asset pack you must purchase it at or above the minimum price of $19.99 USD. You will get access to the following files:
Comments
Log in with itch.io to leave a comment.
Hi, one question, they could be used in games ported to consoles?
Your creation is the best among all the materials. I want to buy all your assets, but unfortunately I don't have enough money to realize this idea, which is very uncomfortable.
I'm so happy that I found this. I was thinking about adding a Dryad village to my game. Great Designs!
Hey there,
Looks great. I see it can be used for commercial projects. Can it be used with SRPG Studio?
EDIT: I just saw the compatibility list and saw SRPG as good to go. I am assuming that is SRPG Studio, please let me know if there is any concern with me using this in that engine.
I tested tilesets with the demo version available on Steam, so all tiles should be good to go; if I missed something let me know! Animations are a little trickier, so not sure about those. You can use them with any game engine you like if you can get them working there. :)

Bought this a while ago and is such an amazing tile. I love it! The flower roofts are the best thing ever.

Happy new year! you guys work hard and it shows. I hope 2021 have lots of good things for your team!