KR Wandering Souls Asylum Tileset for RPGs
A downloadable asset pack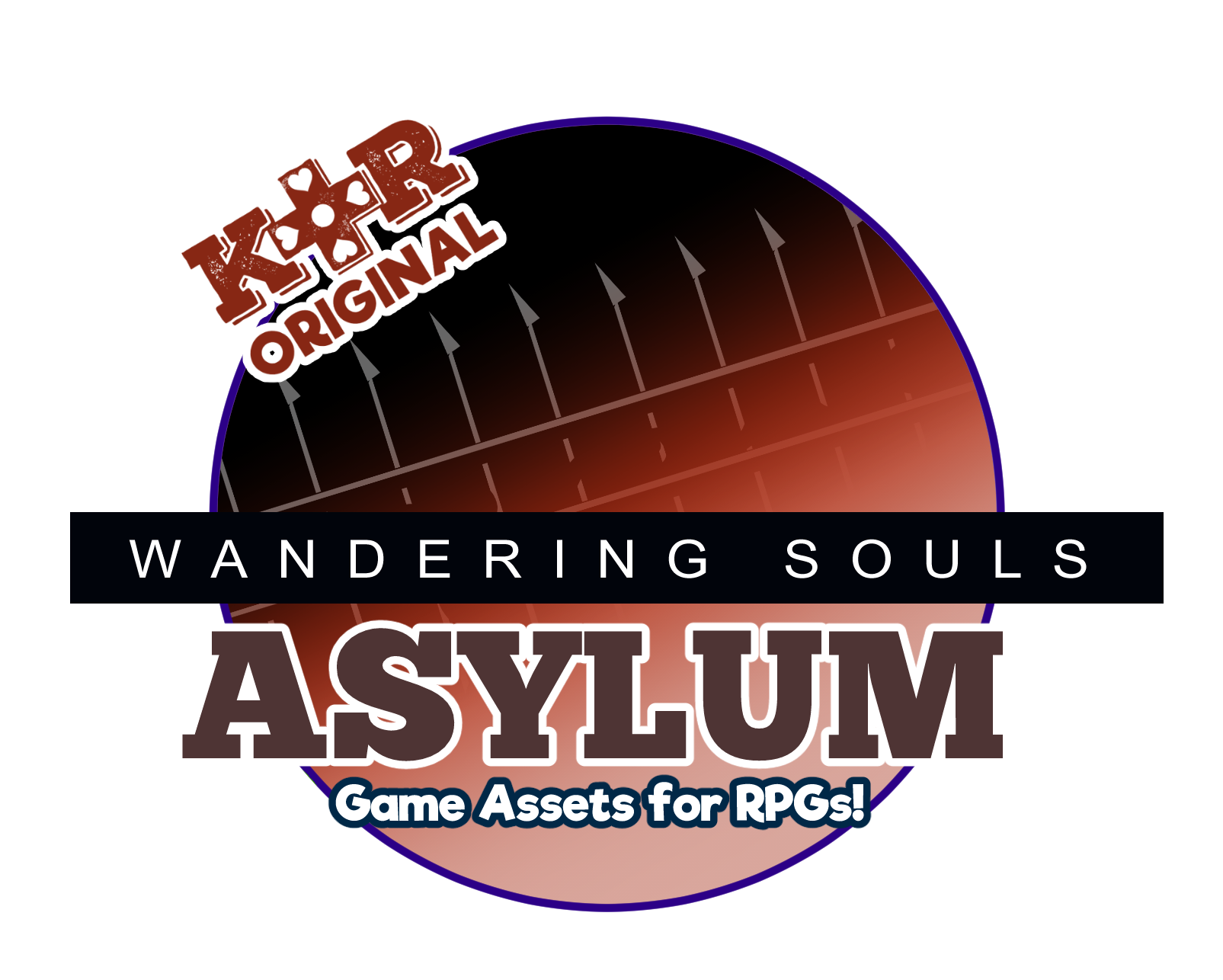 KR Wandering Souls Asylum Tileset for RPGs
Available for multiple game engines!
Flash back to a troubled past or explore in the present with this asylum tileset for RPG Maker, Unity, Godot, Tiled and more. Tell a tragic tale of an unfortunate institution or give your urban explorers a place to unearth secrets of history.
This dual tileset gives you both a clean and aged copy, so you can even switch back and forth in time.

The Wandering Souls Asylum Tileset Includes (in two color palettes and textures):
Ground Tiles:
Grass, dirt and concrete
Overgrowth tiles
Wood panels
Tiled Floors – new patterns
Dirt and grunge
Walls:
White walls, stacked stone, dark stone, several types of tiled walls in several colors, wall panels in several colors, adjustable width windows
Also includes:
Lots of window styles, in both lit and unlit versions
Pillars
Fancy stairs
Decorative alcoves
Wall elements – stamp on any wall to create a slightly raised effect
Big arch
Several stained glass windows
Chapel accessories – pews, candles, crosses
Greenhouse/garden – lots of potted plants, plus garden plants, row-making tiles, wheelbarrow, shovels, and baskets for harvesting
Utility supplies (mostly not shown in screenshots) – shelves, cleaning supplies
Laundry area – washing machines, ironing boards, industrial laundry hampers, hanging laundry lines
Office supplies – desk, old-fashioned phones, paperwork, shelves, filing cabinets of several sizes, lockers, chalkboard
A few salon supplies
Kitchen – ovens, range hood, griddle and grill, pots, cutting boards, cabinet set, mixer and more
Ward room/bedroom – several beds in various stages of being made, suitcases and luggage, toys
Bath – sinks, tub, shower, pipes, water heater/boiler, toilet, medicine cabinet
Medical exam – bottled medicines, exam beds (one set with restraints), scalpels, wheelchair
New roof system – overlay pieces to make many possible styles of roof.
Sign
Trees and plants
Large security fence system with animated gate
Graffiti, cracks and other grunge tiles
and more!
Sample Maps (RPG Maker MV/MZ format)
Check out our samples if you need a little inspiration!
Events and Animations (RPG Maker format, may work with your engine)
Several styles of doors, lit and unlit
The Asylum Tileset:
Comes in 48 and 32px
All our tilesets are now available in two tile sizes if applicable - and you get both for one price! Choose what works best for you!
Has High Compatibility
If your engine supports tilesets of different sizes, it will almost certainly work! Download our compatibility kit to be sure! (We also have a list of engines we've already tested.)
It also includes an RPG Maker ready format! (MV/MZ/VX/Ace)
Has Commercial Use Rights
Yes! You can use these tilesets in your game, even if you intend to sell it...and even if the games contain mature themes.
Purchase
In order to download this asset pack you must purchase it at or above the minimum price of $16.99 USD. You will get access to the following files:
Comments
Log in with itch.io to leave a comment.
This tileset looks great!
Hah and I thought I gave you the idea. You were already working on it! Great Job.
No actually you did, we just thought it would be the perfect addition to the seasonal tilesets! :D Thank you!

I'm still wondering if you are going to do a great big Sorcerers Tower. I know there is a wizards hide-out so you might not want to do that.
I have a real request again. Sorry to bother you, but could you make a Rock pack similar to how you did the foliage pack?
Sounds interesting, do you have any kind of rocks in mind specifically?