KR Victorian Mansion Tileset for RPGs
A downloadable asset pack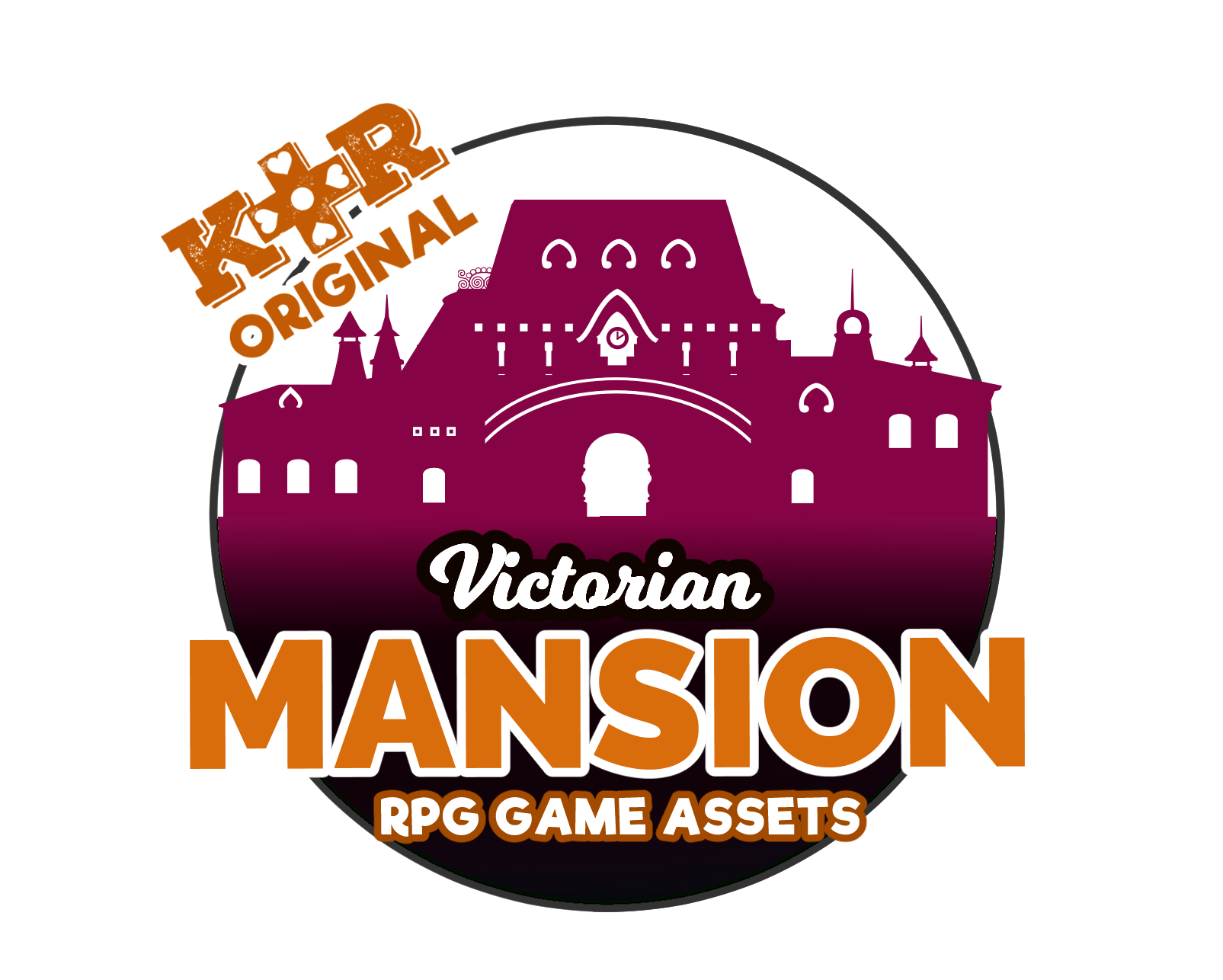 Victorian Mansion Tileset for RPGs

Now available for multiple game engines!
A flash back to the past, for RPG Maker, Unity, Godot, Tiled and more! This unique set of Victorian-inspired mansion tiles is ready for your rich person's elegant manor, a palace, or even grandma's house.
This Mansion Tileset includes:
Ground and Wall Tiles:
FORTY (no, that's not a typo) types of walls – interior, exterior, ranging from plain to super-detailed.
grass, dirt and ground cover
animated water and waterfall
rock and flower path
cracks for walls
adjustable table
fences
and more!
Also featuring:
stairs
multiple windows and curtains
fireplaces
multiple kinds of cabinets
pianos
chairs
bathroom fixtures
multiple beds
food
clocks
shelf decorations
toys
lots of doors
paintings
garden statues
ironwork fences and decor
lampposts
huge gazebo
fountains
architecture pieces for house exteriors
and more!
Sample Maps (RPG Maker MV/MZ format)
Check out our samples if you need a little inspiration!
The Victorian Mansion tileset includes 48×48 and 32×32 versions of all tiles. You will receive tilesets formatted for RPG Maker, plus other sheets suitable for use in any engine that can use variable width tilesets.
See our list of engines we've tested here, plus information on compatibility.
Commercial use rights included.
Purchase
In order to download this asset pack you must purchase it at or above the minimum price of $19.99 USD. You will get access to the following files:
Comments
Log in with itch.io to leave a comment.
Any thoughts on animating the doors for this (and other / future) sets?

It's likely we will eventually. This is an older set and sometimes when we have time we revisit these sets and improve them in various ways. :)

Hi KR, I just wanted to ask, does some of the paid assets already include the free assets on your website (e.g., does this Victorian Manor tileset include the free Mansion tileset items), or do I have to download them separately? Appreciate your response, and thanks in advance!
We don't include any of the free assets in our paid packs. :)

Thanks for the response! So I have to go to the website to download all the free packs. Noted on this. And thanks for continuously churning out great tilesets!
Sorry there's a problem!
What do you mean by out of order? Are the filenames ok?
It's okay! So i added the files to my img/tilesets and then added them as tiles in their corresponding place A1, A2... etc. they look normal as im placing them but when they show up in the box some of them are cut off and half of them aren't there.
i could email you pictures if that would get my point across better.
I'm new to this so it might just be me but i would really appreciate the help.
let me know if i can email you about this issue and i'll just delete this comment section as to not muddy your page
It sounds almost like it's the wrong size of tileset, perhaps? Which version of RPG Maker are you using? You might try the contents of the other zip file and see if that works better for you.

Do you have plans to release a sample project with your map assets?
I'd love to have some prebuilt structures/houses/dungeons in each of these. The screen shot maps are pretty cool and I want them.

Like if you had a bundle deal where you're selling all of your map assets and it had a sample project where you had prebuilt maps for all of the various packs, I'd immediately buy it.
And if you had 10 example maps for each pack then I'd start salivating.