KR Transportation Station ~ Subway + Train Tileset for RPGs
A downloadable asset pack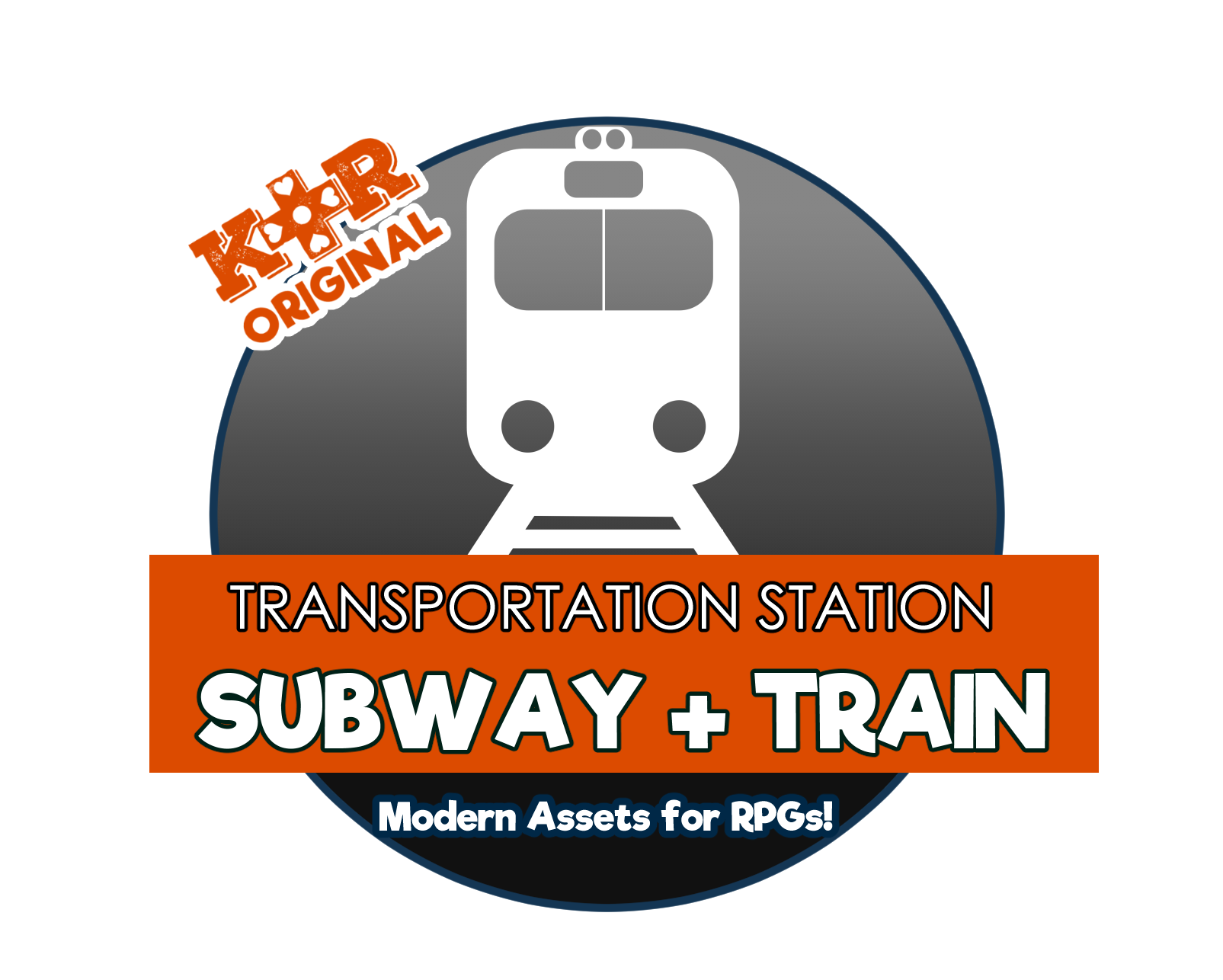 KR Transportation Station ~ Subway + Train Tileset for RPGs
Available for multiple game engines!
Taking a long trip…or just crossing town? You can do it with Transportation Station: Subway + Train tileset for RPG Maker, Unity, Godot, Tiled and more! Comes with subway entry, station tiles, full car interiors, plus animations! Train, subway, escalators, turnstiles and more!
The Transportation Station ~ Subway + Train tileset includes:
Ground tiles
Concrete floor in 8 colors
Fancy tile
Subway tile (6 colors)
Two grate tiles
Floor stripes
Tables
and more!
Wall tiles:
Walls and roofs to match floor tiles! (Lots of colors!)
Also includes:
Staircases
Subway entry
Colorful grates (matches floor)
Posts, poles and barricades
Windows
Safety and exit tiles
Pipe system
Tracks in north-south and east-west. Includes both subway and train tracks.
Advertising, for both inside the train cars and on walls
Train/sub seating in two styles (individual seats and benches)
Beds (for sleeper train)
Tables in various configurations
Windows with curtains
Control panels and monitors
Assorted signage
Luggage racks with lots of styles of luggage
Tiles to create a curved interior (for north-south trains)
More not mentioned here!
Sample Maps (RPG Maker MV/MZ format)
Check out our samples if you need a little inspiration!
Events and Animations (RPG Maker format, may work with your engine)
North-south and east-west facing subway (blue) and bullet train (red)
All train animations include dark interior, lit interior, and lit interior with headlights (where applicable)
All trains have door opening animations for all above states
Matching interior door also included, with dark, light and sky visible through the window.
Also includes an escalator. (See sample map for setup if necessary.)
Also includes plain door, elevator and turnstiles!
The Transportation Station ~ Subway + Train Tileset:
Comes in 48 and 32px
All our tilesets are now available in two tile sizes if applicable – and you get both for one price! Choose what works best for you!
Has High Compatibility
If your game engine supports tilesets of different sizes, it will almost certainly work! Download our compatibility kit to be sure! (We also have a list of engines we've already tested.)
It also includes an RPG Maker ready format! (MV/MZ/VX/Ace)
Has Commercial Use Rights
Yes! You can use these tilesets in your game, even if you intend to sell it…and even if the games contain mature themes. See our terms of use for more information.
Purchase
In order to download this asset pack you must purchase it at or above the minimum price of $16.99 USD. You will get access to the following files:
Comments
Log in with itch.io to leave a comment.
Any thoughts on a public transport system to match the cyberpunk/futuristic tilesets?

We just need an airport and a cruise transport dock and all types of transportation will be covered! :D
since nobody else commented it till now the obligatory 2cent random thought:
i realy like the posters in these screenshots ...
they added a nice decorative element to these walls
which could also be usefull for stores or homes (are they only with text in this pack?)