KR Transportation Station ~ Cars, Trucks and Gas Tileset for RPGs
A downloadable asset pack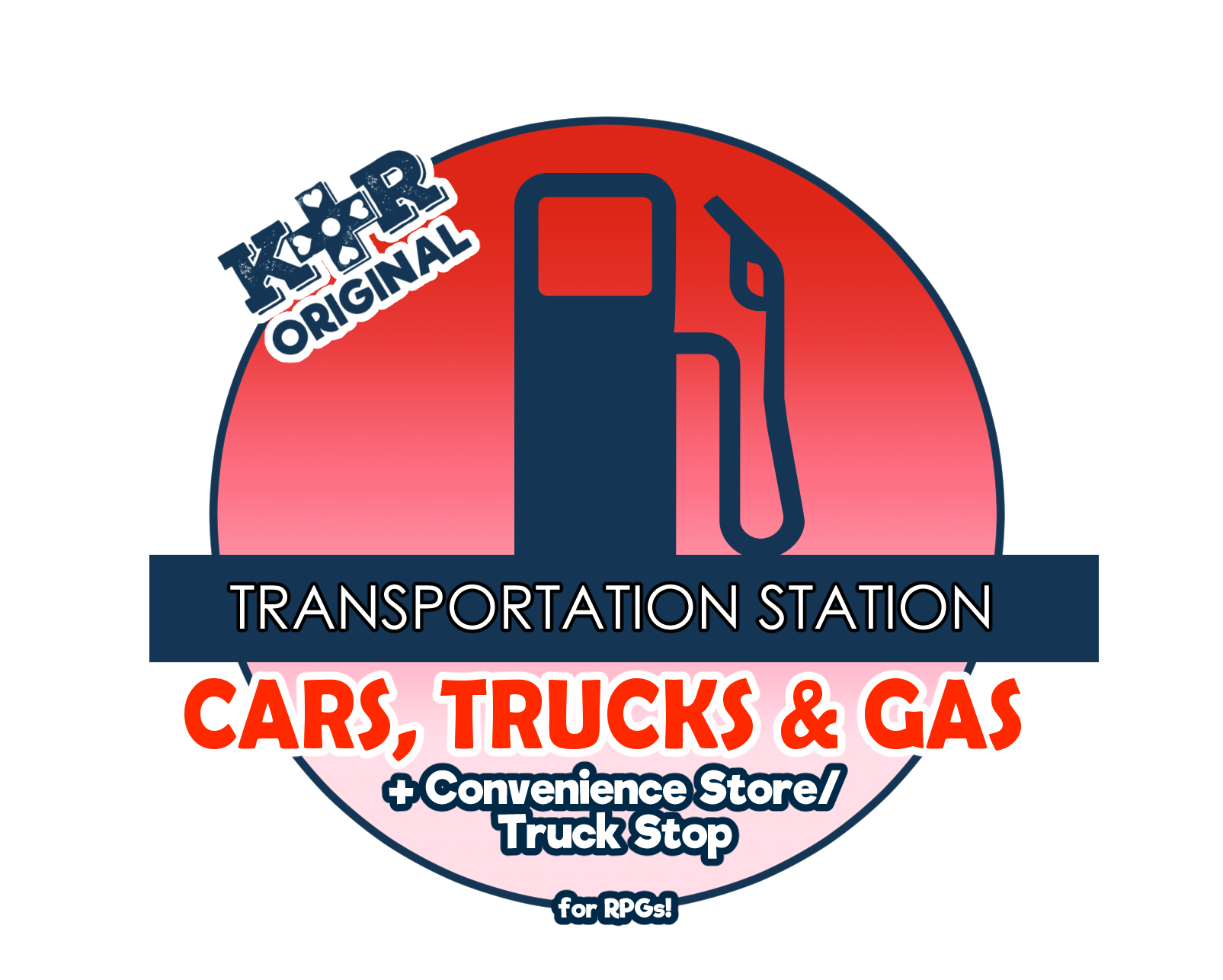 KR Transportation Station ~ Cars, Trucks and Gas Tileset for RPGs
Available for multiple game engines!
Road trip! Jump in the vehicle of your choice and hit the road with Transportation Station: Cars, Trucks and Gas tileset for RPG Maker, Unity, Godot, Tiled and more!
You not only get all these vehicles, but tiles for making a gas station/convenience store/truck stop as well! Pairs with our Urban Modern tilesets.
The Transportation Station ~ Cars, Trucks and Gas tileset includes:
Ground tiles
Grass, dirt and natural textures
Stone path
Flowers
Rocks
Fences
and more!
Wall tiles:
Three colors of natural rock walls
White painted wall
Metal panel
Dark marble wall
Grate textures
Rough painted walls
and more!
Also includes:
12 vehicle styles, most of which have 27+ color options! Get cars, trucks, motorcycles, semi trucks, RVs and more!
Lots of signage for your station - or use them for something else entirely, we included blank versions! Gas signage does not contain prices…add your own or leave the squares to imply a price.
Gas pumps (north-south and east-west)
Barriers
Building facades
Pump canopy
Several kinds of edges and trim pieces
Pump numbering
Tall lighting posts (adjustable height)
Window signs
Benches
Roads and road striping
Registers (two styles)
Cafe seating
Interior signs (coffee, cold drinks, pizza, etc)
Lots of shelving to showcase various products. Make your store look nice and full, like a real store!
Drink coolers (4 cases)
Convenience store staples: Coffee (or tea) machines, soda fountain, condiments, hot dog warmer, pizza warmer, cup dispensers (multiple styles), small dispensers, ice cream machine and more!
Bathroom tiles
Laundry area and shower tiles (for truck stops)
Utility tiles: security cameras, ladders, small signage, boxes for stockrooms, light switches, and other mundane things
Kitchen setup with grill, burners, large sink and more
More not mentioned here!
Sample Maps (RPG Maker MV/MZ format)
Check out our samples if you need a little inspiration!
Events and Animations (RPG Maker format, may work with your engine)
All those shiny vehicles. Bugs, standard sedan, crossover, standard and flatbed semis, hatchbacks, Jeeps, motorcycles, pickup trucks, an RV, sports car, taxi and large van.
You also get animated doors in three colors (not quite as exciting as a sports car in 30 colors, we admit.)
The Transportation Station ~ Cars, Trucks and Gas Tileset:
Comes in 48 and 32px
All our tilesets are now available in two tile sizes if applicable – and you get both for one price! Choose what works best for you!
Has High Compatibility
If your game engine supports tilesets of different sizes, it will almost certainly work! Download our compatibility kit to be sure! (We also have a list of engines we've already tested.)
It also includes an RPG Maker ready format! (MV/MZ/VX/Ace)
Has Commercial Use Rights
Yes! You can use these tilesets in your game, even if you intend to sell it…and even if the games contain mature themes. See our terms of use for more information.
Purchase
In order to download this asset pack you must purchase it at or above the minimum price of $19.99 USD. You will get access to the following files:
transportation_station_cartruck.zip
112 MB
Comments
Log in with itch.io to leave a comment.
You going to make a military vehicle set eventually?
Definitely possible. We've had requests for military bases in the past and would probably include vehicles with that.
Is in this or other packages a police-car?
Not in this one. We probably are going to make a police station/emergency vehicle pack but it's still on the to-do list.

My game has time travel so every modern one you guys do I happy about. There seems to be a lot detail with this one. I should get it while it's on sale.
this is another modern must have! If you ever do a modern tile set based on like anime or comic conventions I will be there!! lol
Added it to the request list! :D

whispers ( any update on that anime con pack)lol
Haven't forgotten about it. :) We just have a really full request list at the moment so it might be a while.

4-way modern vehicles? Oh joy. When I have money this is at the top of my list of things to get.


Seriously, I don't, for the life of me, know why so many other modern resources only do cars and trucks from two sides in order to fit in parking spaces.

amazing tiles as always, cant wait for a courthouse & courtroom tiles.