KR Summer Beach Tileset for RPGs
A downloadable asset pack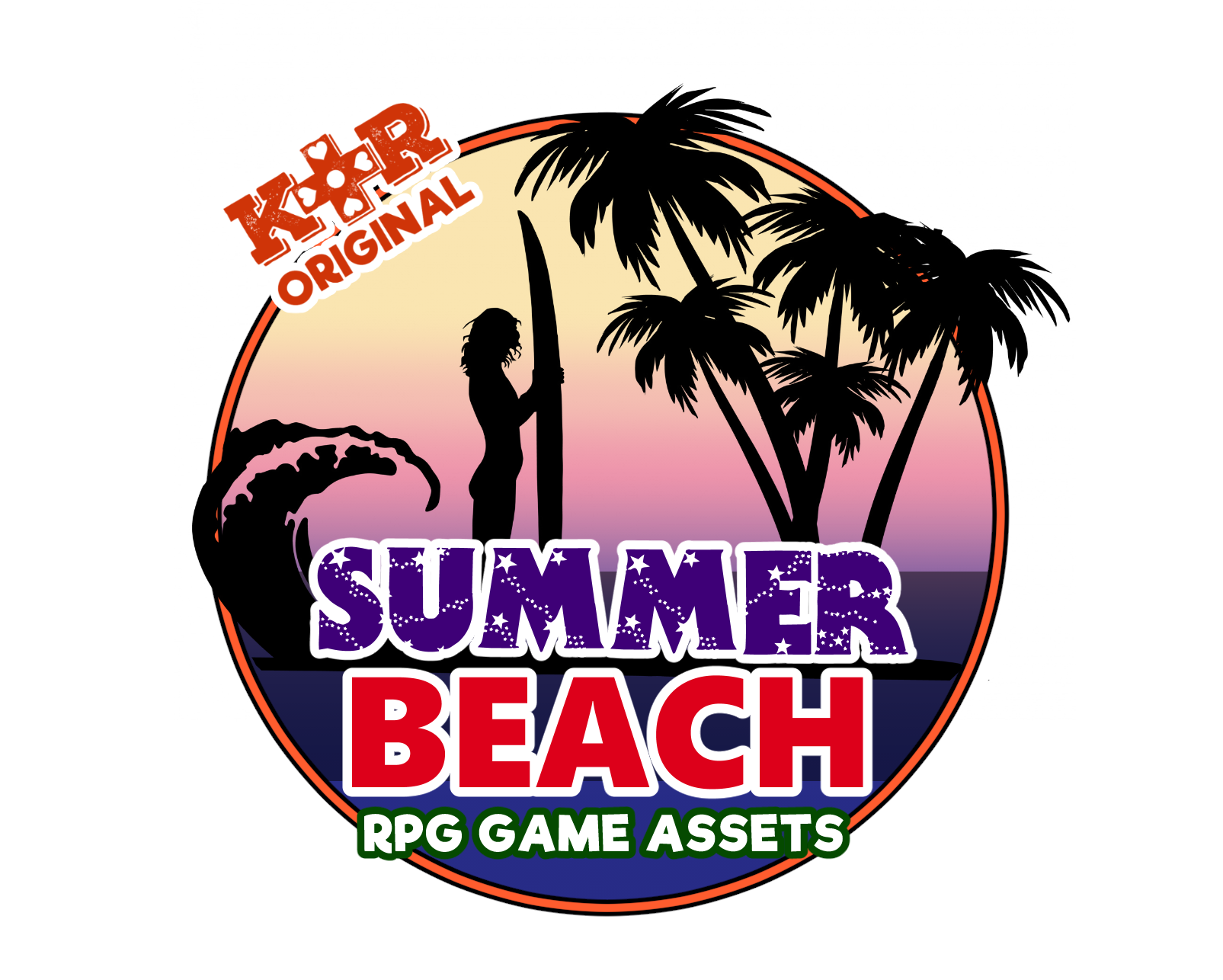 KR Summer Beach Tileset for RPGs
Now available for multiple game engines!

Take your RPG to the beach with this Summer Beach tileset for RPG Maker, Unity, Godot, Tiled and more! Whether you need the shores of a fantasy island or a rustic modern resort, you'll find what you need for some fun in the sun here.
This Beach Tileset Includes:
Ground Tiles:
Several water tiles
sand + textured, wavy sand
grass, moss, mossy path
wood path, tables, and piers
fences and more!
Walls:
Thatch roofs
plain, sandy wall
3 white walls with wood trim
3 patterns woven walls
Also featuring:
beach towels
umbrellas in multiple positions
lounge chairs
life guard seat
picnic tables
lemonade stand
sand castles and drawings in sand, plus various footprints
coral, starfish, shells and other colorful sea life to add to the shorelines
shipwrecks, with lifeboats, crates, barrels and assorted wreckage
tons of foliage – lots of variations of trees, bushes, and flowers to keep things interesting
separate roofing and building components to maximize the building types you can make
and more!
And goodies for interiors:
boho style interior furniture and decorations – couch, vanity, bed, curtains, wall hangings, dresser and cabinet, mirrors, lamps and more
houseplants
sliding doors
appliances – stove, fridge, washer-dryer combo
adjustable tables and tablecloths
and more!
Events and Animations (RPG Maker format, may work with your engine)
Animated sliding doors!
Sample Maps (RPG Maker MV/MZ format)
Check out our samples if you need a little inspiration!
This Beach tileset includes 48×48 and 32×32 versions of all tiles. You will receive tilesets formatted for RPG Maker, plus other sheets suitable for use in any engine that can use variable width tilesets.
See our list of engines we've tested here, plus information on compatibility.
Commercial use rights included.
Purchase
In order to download this asset pack you must purchase it at or above the minimum price of $14.99 USD. You will get access to the following files:
Comments
Log in with itch.io to leave a comment.
Awesome work! I picked up a bunch of packs last week that I had been backlogged. :D

Would be amazing to see the following:
-Concert Hall (Modern)
-Museum (History)
-Ancient Greece
-Native American
-Age of Exploration (Harbors and Marine / Port / Pirate Towns)
-Modern Military Base (Hangars)
-French Renaissance (French Revolution)
-Shopping Mall (department stores, escalators, merchandise)
Keep up the great work!
Great, thanks! Many of these are on our list. Actually I have a half-finished Native American set that I really should finish and post. :D

Oh my gosh!!!! I have been waiting for this one. So excited, will be buying tonight when my pay hits. You guys never fail to deliver some awesome tilesets ❤️.
Awesome job, I like the ship wreck pieces and a lot of the details. Makes this usable for so much more than a summer vacation spot, like a shipwreck beach or a secluded hideaway!