KR Steampunk Interiors Tileset for RPGs
A downloadable asset pack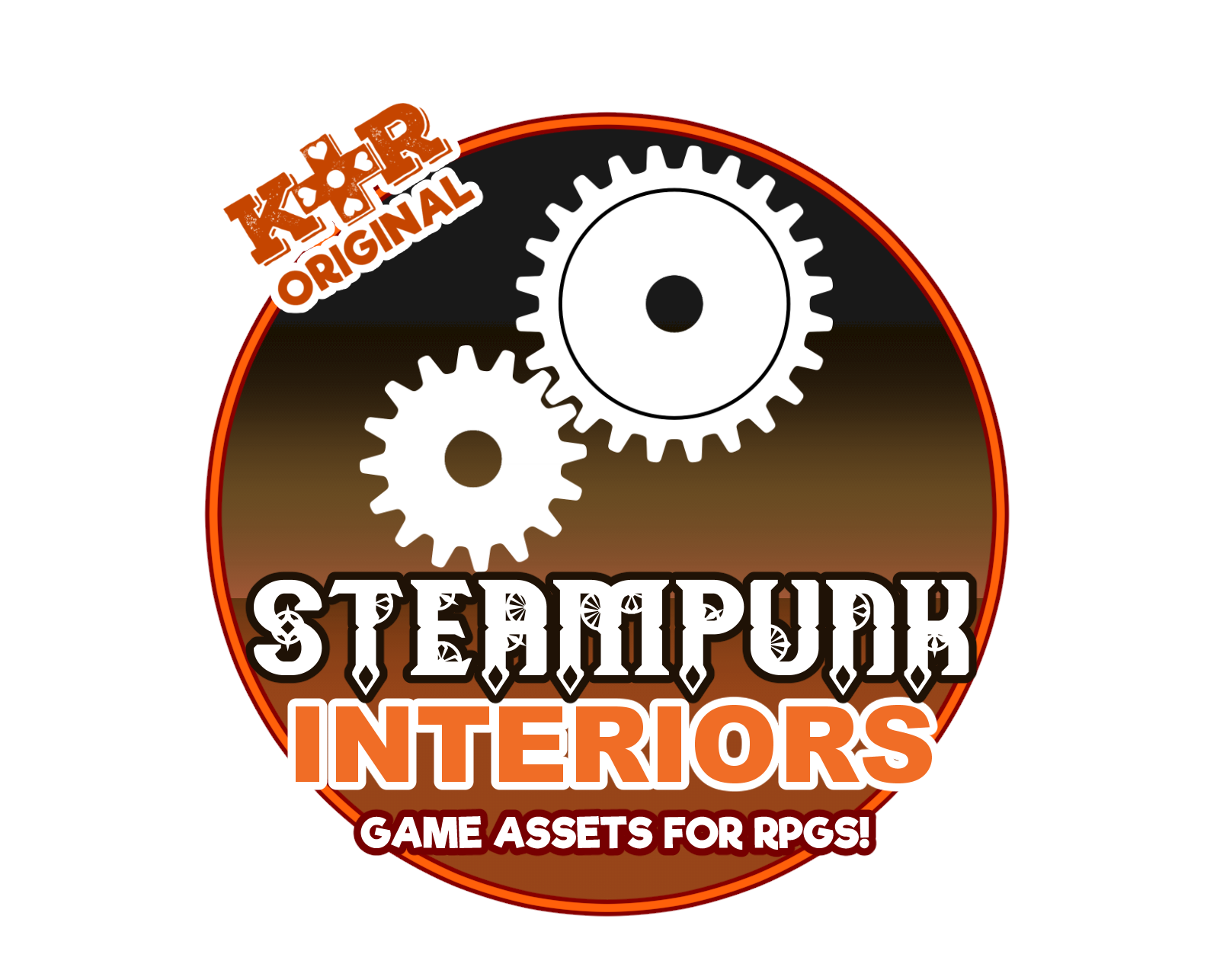 KR Steampunk Interiors Tileset for RPGs
Available for multiple game engines!
Enter a fascinating mechanical world with this Steampunk interior tileset for RPG Maker, Unity, Godot, Tiled and more. Kick off your steam-driven RPG empire in style!

The Steampunk Interior Tileset Includes:
Ground Tiles (includes a whopping 15 solid ground tiles):
Wood floor
2 aged paper-look
Herringbone pattern
Alternated grooved tile
2 patterns of square tile
3 styles of grates
5 decorative accent tiles (some can also serve as rugs)
Also includes an autotile pipe, with plain, valve and dial, and lighting versions!
You also get gears and other edges for decorating!
Walls:
Tons of brand new wall patterns, ranging from utilitarian to elegant:
3 patterns of wood-like walls (try mixing and matching these together to make interesting patterns!)
Simple rounded wall panels
Repeating gear wallpaper
2 Wicker wall patterns
Aged metal border
Chain mail
5 decorative wallpapers
3 plain walls of various shades
Includes roof tiles that match the above flooring, so you can easily create tiered designs
Also includes:
Stairs to match almost all flooring patterns
Tons of unique lighting types
Steampunk chandelier
Shelves with books, gadgets and more
Plenty of furniture – chairs, sofas, tables, bar stools, beds, stove and fridge, countertops for kitchen, bath fixtures and more
Wall decor – highly detailed windows, frames, clocks, indicator lights, switches and plug-ins, dials, and other Steampunk staples
Shop goods – bins with produce, bakery, fresh meat/fish – cash register, shelving with clothes and other goods, mannequins with Steampunk clothes
Unique planters with interesting plants
Mini lighting kit, with additional shadows + pillars of light
Chains, ropes and cables
Valves, switches, levers and other details (includes on/off state)
Pipe system
Lab details – Tesla coil, weird gadgets, capsule big enough to hold characters (plus a smaller one)
Maps
Control panels
Shiny mechanical details
and more!
Sample Maps (RPG Maker MV/MZ format)
Check out our samples if you need a little inspiration!
Events and Animations (RPG Maker format, may work with your engine)
Several styles of doors, with light and dark interiors
Trunk that opens
Two types of valves, in both floor and wall perspective, in small and large sizes.
This Steampunk Interior Tileset:
Comes in 48 and 32px
All our tilesets are now available in two tile sizes if applicable - and you get both for one price! Choose what works best for you!
Has High Compatibility
If your engine supports tilesets of different sizes, it will almost certainly work! Download our compatibility kit to be sure! (We also have a list of engines we've already tested.)
It also includes an RPG Maker ready format! (MV/MZ/VX/Ace)
Has Commercial Use Rights
Yes! You can use these tilesets in your game, even if you intend to sell it...and even if the games contain mature themes.
Purchase
In order to download this asset pack you must purchase it at or above the minimum price of $16.99 USD. You will get access to the following files:
Comments
Log in with itch.io to leave a comment.
As always, great quality content ! 😇
Phenomenal!! Can't wait to see what else is coming down the line.
lol how those lab interiors got me. Adding this to my list! ♥
This is incredible! I've always thought steampunk looked real cool I can imagine this working well for an airship interior as well. I especially love the "capsule room"
This is awesome! I hope exteriors is on it's way!
You bet! We actually wanted to release them closer together but it didn't work out as well as I hoped. :( We have quite a bit done though.