KR Star Land Tileset for RPGs
A downloadable asset pack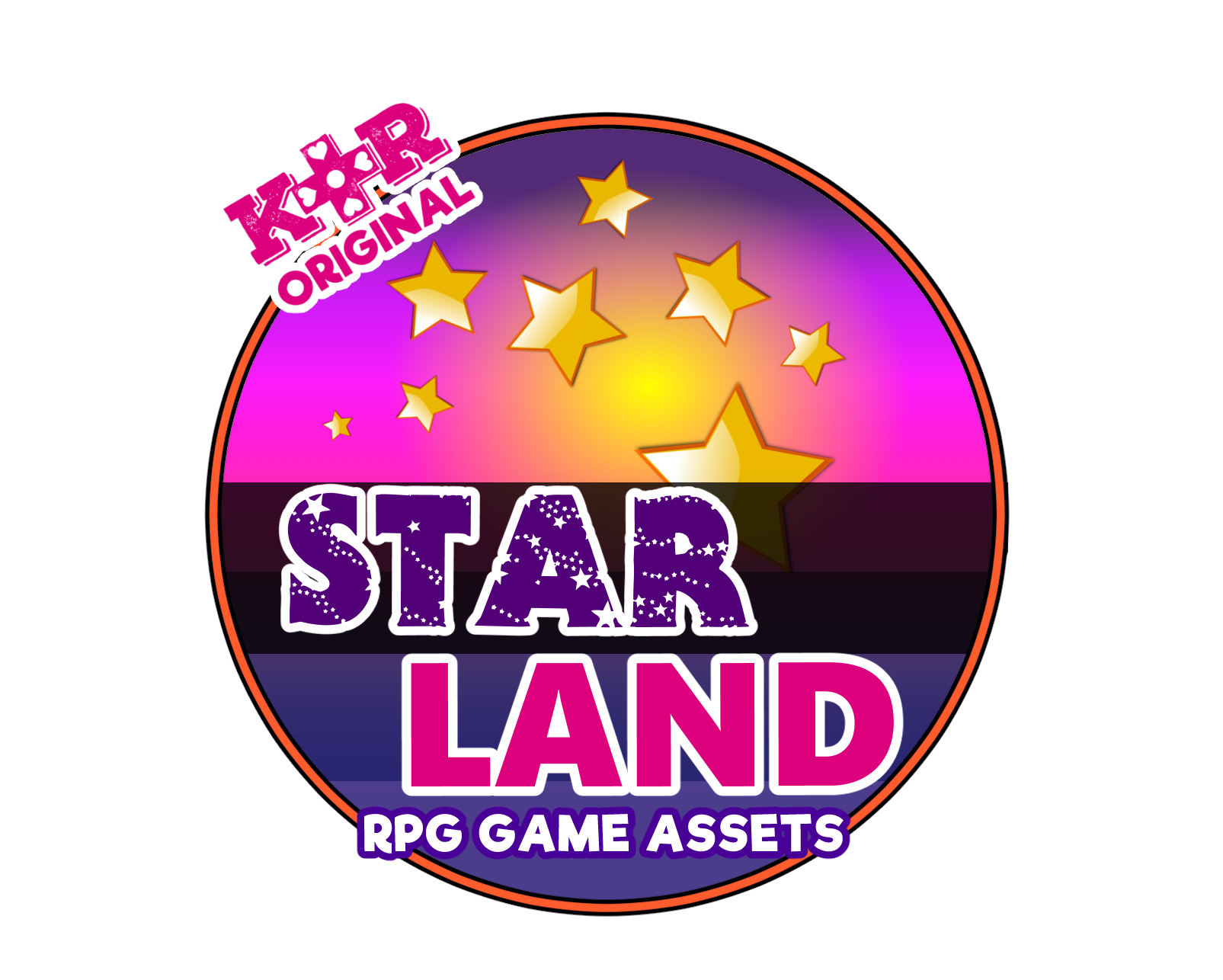 KR Star Land Tileset for RPGs
Available for multiple game engines!
Bright, lively and cute! Fill your world with colorful stars and cheerful spaces with this Star Land tileset for RPG Maker, Unity, Godot, Tiled and more! Comes with multiple color palettes and parallaxes to suit your style.
This Star Tileset Includes:
Ground Tiles:
Four colors of "jelly" water
cloud ground tiles
grass, plain dirt, textured dirt, simple sand, star ground covers, grunge texture, jelly road, two fences, table and more!
Walls:
5 colors of wavy-textured walls, some with grass, some without. You also get angled wall tiles to break away from super-sharp corners.
Also featuring:
stairs to match flooring
tons of rainbows of various sizes and shapes
free-floating clouds
swirly trees
star trees
bushes
tons of stars in random positions and multiple colors
lit and unlit torches
treasure box
multi-color flowers
familiar-looking hills
interior furniture - beds, multiple chairs and seating, lanterns, table, windows, wall edging, windows, cute star computer and more!
Events and Animations (RPG Maker format, may work with your engine)
Includes an animated rainbow treasure chest.
Parallax:
Three parallaxes for multiple moods - a cute starry night, cloudy sky, and plain blue!
Sample Maps (RPG Maker MV/MZ format)
Check out our samples if you need a little inspiration!
This Star tileset includes 48x48 and 32x32 versions of all tiles. You will receive tilesets formatted for RPG Maker, plus other sheets suitable for use in any engine that can use variable width tilesets.
See our list of engines we've tested here, plus information on compatibility.
Commercial use rights included.
Purchase
In order to download this asset pack you must purchase it at or above the minimum price of $13.99 USD. You will get access to the following files:
Comments
Log in with itch.io to leave a comment.
will these cloud animate/move? or just stay still?
same question goes to the light/bubble things. thx!
hello could you make a character pack to go with your tilesets
Hi! Right now we don't make character packs..mostly just minor animations to go with each tileset. Sorry about that!

Purchased. I really have everything you have now. I stayed away from modern before since i couldn't use it, but now i can so i picked those up. The KR Collection
Oh, this is so adorable! It makes me think of nintendo games (like Kirby, Yoshi, & Mario, to be more specific), and that makes me so incredibly happy

Thank you! Those games were such a huge influence when we were growing up, it's nice to be able to pay homage to them, even if indirectly. :)

Wow, this is really pretty! Definitely gonna buy this next chance I get!
I wanted a ghost forest but this work looks good
A haunted forest would be pretty cool. Could even have distorted black seemingly dead trees. One of those A4 trees tiles done to right theme. A massive sinister tree. etc.
Yeah, we definitely still plan to make this. :) May be a little closer to Halloween, though. We'll probably have some kind of special bundle then like we did last year.