KR Sky Palace Tileset for RPGs
A downloadable asset pack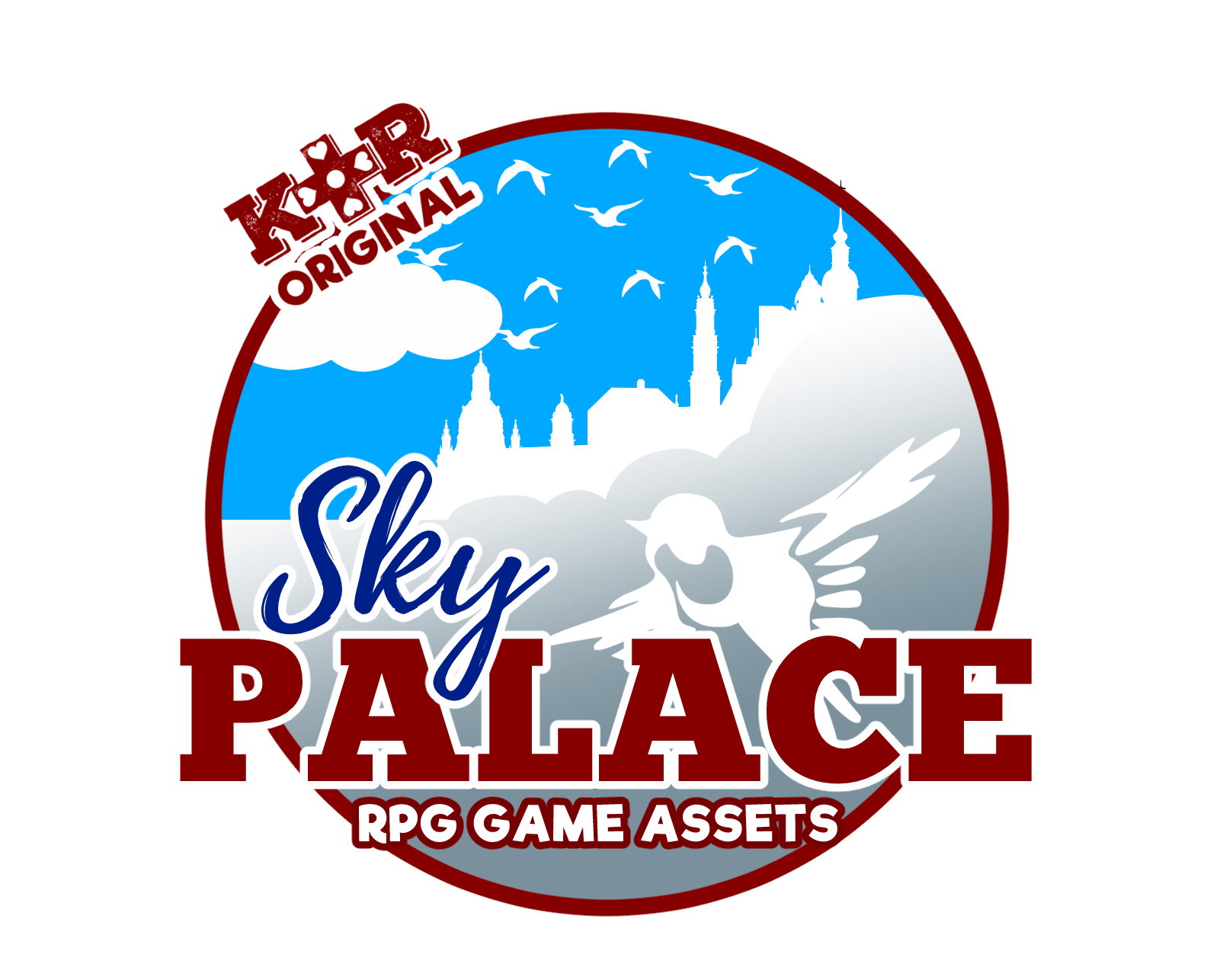 KR Sky Palace Tileset for RPGs
Now available for multiple game engines!
This Sky Palace tileset adds heavenly spaces to your game! Highly detailed and crafted with both gold and silver versions, these tiles can create intricate and unique spaces for your angels and other winged folk to roam.
Includes 4 parallaxes designed for floating cities!

Sky Palace Tileset Includes:
Ground tiles:
Grass
gold and silver plain tile floor
several fancy floor patterns in multiple colors
marble floor
land edge
gold and silver fences
gold and silver adjustable tables
Wall tiles:
Marble walls in gold, silver and medium gray
Bookcases in gold and silver
Also includes:
pillars and columns
fancy statues
wall/floor edging
grand staircase
chandeliers
fancy furniture in gold and silver – beds, chairs, armoire, mirrors, clocks, lamps, candlesticks, bathroom fixtures and more
prison setup
foliage in both bright colors and pure gold
Parallaxes with night sky, cloudy sky, stormy sky and sunset!
Sample Maps (RPG Maker MV/MZ format)
Check out our samples if you need a little inspiration!
The Sky Palace tileset includes 48×48 and 32×32 versions of all tiles. You will receive tilesets formatted for RPG Maker, plus other sheets suitable for use in any engine that can use variable width tilesets.
See our list of engines we've tested here, plus information on compatibility.
Commercial use rights included.
Purchase
In order to download this asset pack you must purchase it at or above the minimum price of $16.99 USD. You will get access to the following files:
Comments
Log in with itch.io to leave a comment.
Hi, where can I find the large starburst lighting effect shown on some the example images?
I don't think we have a copy of that exact pattern online, but there are some similar ones in our God Ray Kit.

Looks great, you guys! Can definitely see a use for this tileset in my current game I'm working on.
Would love a snow/ice outside tileset, as well as one focusing on fantasy interiors, be it inns, shops, and such.
All the best, and thanks again!
Just read your latest email. Happy Thanksgiving! I'm happy to continue supporting you and your good work throughout the future. I'm looking forward to what you'll come out with next! :D
Wishing for the following (some ideas for the future):
Psycho Pass inspired urban future city
Ancient Greek Temples
Your take on a late 19th century train (a la the Orient Express)
More nature / various biome sets (i.e. tundra, taiga, rainforest, Pacific Northwest forests, etc
Classical Vienna exterior / European Opera House
Sailing Ships (Age of Exploration)
Modern day concert hall venue (for music artist shows)
Ancient Egypt
Would love to see those all one day (I'd buy them up in a heartbeat). Have a happy holidays!
Thank you! :D Added your suggestions to the list. Hope you had a great Thanksgiving!
EGYPT WOULD GO AMAZING WITHE THE DESERT TILESET ...sorry just love Ancients Egypt a lot.
This is definitely on the to-do list. :D