KR Mad Science Lab Tileset for RPGs
A downloadable asset pack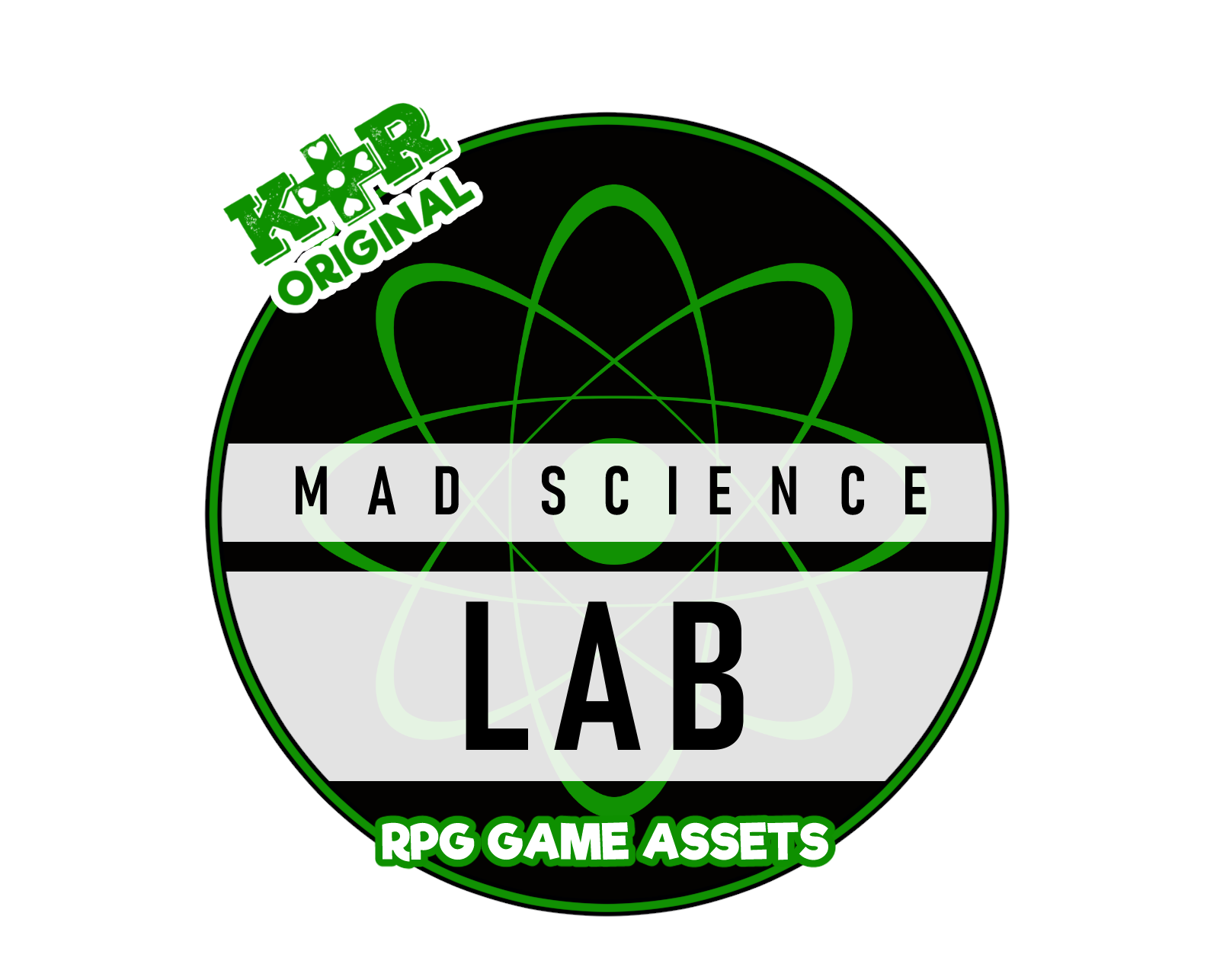 KR Mad Science Lab Tileset for RPGs
Available for multiple game engines!
Will you use this set for terrible experiments by the villain or science for the last hope of humanity? Be prepared for both with the Mad Science Lab tileset for RPG Maker, Unity, Godot, Tiled and more!
The Mad Science Lab tileset includes:
Ground tiles:
wood floor
stone floor in two tones
gritty, dirty edges
cracks
dirt
trash and rocks
and more
Wall Tiles:
4 plain concrete walls
2 panel walls
2 tile walls
1 rock wall
1 metal panel wall
2 windows
Also includes:
Tons of machinery – engines, metal and brackets, and other mechanical pieces that could be used for many things!
Green glass tubes, capsules and other containers to hold whatever experiments you can whip up!
Sinister-looking tools to scatter around your lab
Lots of pipes to hook it all together
Levers, valves and other pieces (with animations)
Lights and glows
Hanging cables
Cabinets, shelves and other practical furniture
Jars…with brains!
and more!
Sample Maps (RPG Maker MV/MZ format)
Check out our samples if you need a little inspiration!
Events and Animations (RPG Maker format, may work with your engine)
Two styles of levers and two styles of valves in matching colors!
The Mad Science Lab Tileset:
Comes in 48 and 32px
All our tilesets are now available in two tile sizes if applicable - and you get both for one price! Choose what works best for you!
Has High Compatibility
If your engine supports tilesets of different sizes, it will almost certainly work! Download our compatibility kit to be sure! (We also have a list of engines we've already tested.)
It also includes an RPG Maker ready format! (MV/MZ/VX/Ace)
Has Commercial Use Rights
Yes! You can use these tilesets in your game, even if you intend to sell it...and even if the games contain mature themes.
Purchase
In order to download this asset pack you must purchase it at or above the minimum price of $12.99 USD. You will get access to the following files:
Comments
Log in with itch.io to leave a comment.
Have you tried or heard any results from users of Intersect Engine?
No one has asked about this engine yet. I downloaded Intersect to try to confirm compatibility but for some reason I can't get it up and running, so I have to go with educated guesses on this one.

I think it will work, though. Intersect supports 32px tiles, right? And it looks like it doesn't have strict requirements on the size of the images that contain tiles, based on the tilesets included with the engine.
It also looks like it uses the same type of autotiles that RPG Maker uses? That would be great as we have that format already.
If you want to try it out, a refund is always an option if it doesn't work out. :)

I look forward to purchasing this and many of your other sets then as at least I'll have a uniform look by style. I did find that you had a compatability set so I'll start there first.
And yea, they use one of the tile variants similar to rpgmaker, but not sure what version. If you like when I test I can give you some definitive results.

hello. have you charset to work with ?
Just what I needed for my Survival Horror game i'm making, thank you very much.
This is like your Alienated Set.. in green! :D

Love it!!
Just what I needed! Thank you very much!
I'm doing a game about secret human experiments and now that I started searching a good tileset you sell this.

YOUHOU !