KR Legendary Palaces ~ Reaper Tileset for RPGs
A downloadable asset pack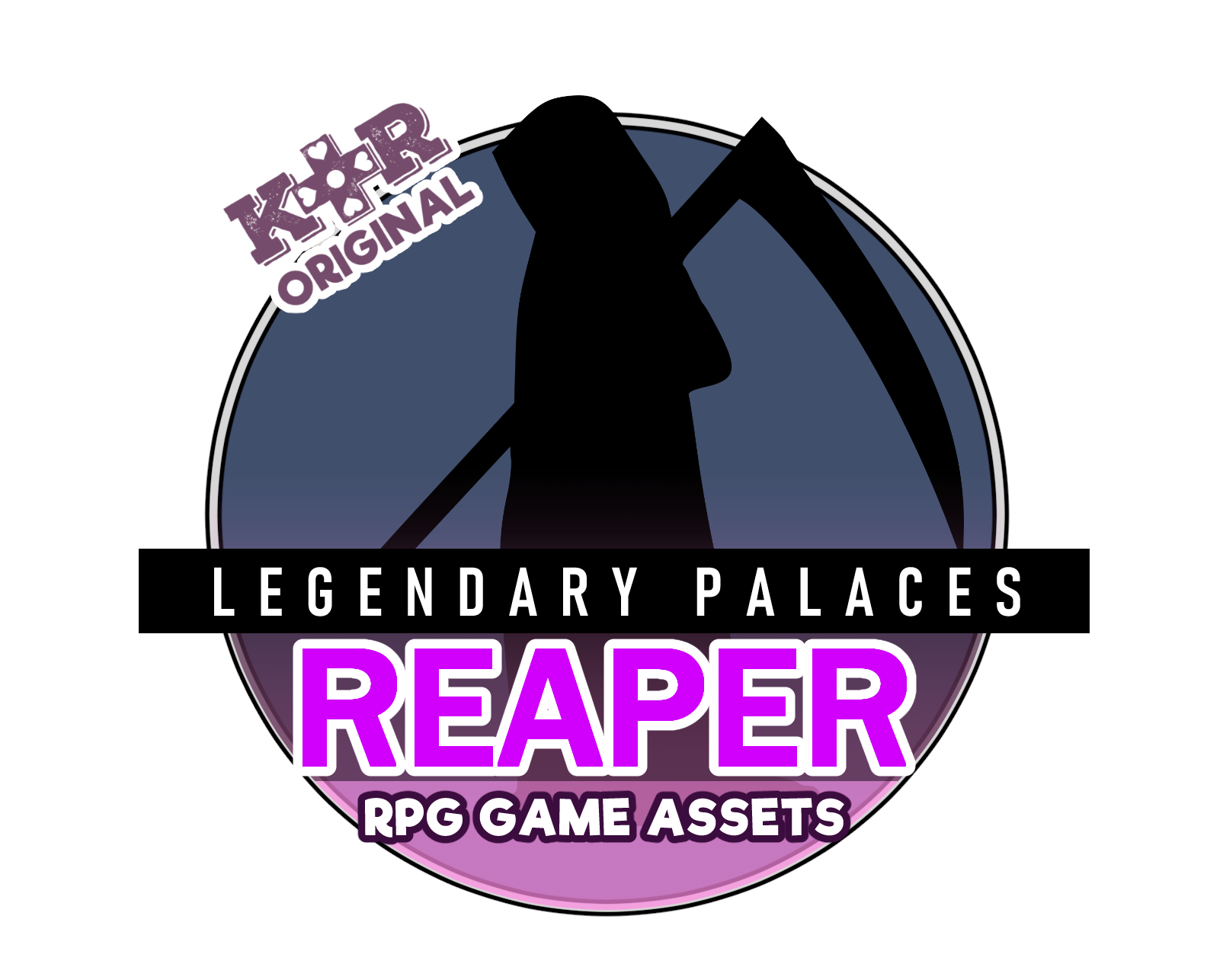 KR Legendary Palaces ~ Reaper Tileset for RPGs
Is your party's future looking a little…grim? Need a glimpse of the afterlife in your game? Grab this Reaper tileset for RPG Maker, Unity, Godot, Tiled and more! Its flat monochrome palette is perfect for the more macabre plotline.
This Reaper Tileset Includes:
Ground Tiles:
Foggy gray tiles lend a sense of despair
Dismal purple water
Fancy floor tile, one with a foggy edge, one without
Three spike traps, one with a foggy edge
4 subtle fog effect tiles
Walls:
A collection of fog-wrapped walls that flow seamlessly down into the gray fog floors. Everything rises mysteriously from the mists! Also includes upper-level tiles with no fog floor.
Also featuring:
stairs to match flooring
small accent pillars
large accent pillars (plain and themed)
plain arch
detailed arch
raised platform
coordinated throne
magical-looking window (small and large)
treasure box (with animated version)
push block
bridge rails
multiple statues
magic rings
chains and macabre decor
lonely-looking lanterns
diagonal stairs
ladders
trees
gravestones
separate sheet with non-glow versions of the tiles (for use on upper layers)
plus more!
Events and Animations (RPG Maker format, may work with your engine)
Treasure chest and various fire animations (black, white and purple) for torches!
Fogs and Parallax:
Get going quickly with a simple gray sky parallax (horizontal loop) and two fog layers, one black, one white!
Sample Maps (RPG Maker MV/MZ format)
Check out our samples if you need a little inspiration!
The Legendary Palaces Reaper tileset includes 48×48 and 32×32 versions of all tiles. You will receive tilesets formatted for RPG Maker, plus other sheets suitable for use in any engine that can use variable width tilesets.
See our list of engines we've tested here, plus information on compatibility.
Commercial use rights included.
Purchase
In order to download this asset pack you must purchase it at or above the minimum price of $9.99 USD. You will get access to the following files:
Comments
Log in with itch.io to leave a comment.
The way you can make a limbo out of this. Fantastic work!
This could be my favorite palace. If I have any request it's still an Overworld Expansion to a Brand New Overworld because I love your overworld so much as well overworld type maps.
I like this one because it's so dark. Haven't seen an entirely dark themed tile set from you except for maybe Elemental Dungeons (dark) and that isn't quite so dark
This is definitely still on the list. :) Could you remind me exactly what it was that you would like to see in an expansion? I need to make some new notes.

Auto Tiles with a normal swamp version, swamp locations, Special lava site location, garrison to block and mean a checkpoint, Guard tower, Decorated rock building, More castles of different looks, towns with new looks, power Fountain locations, single well location, Special Dwarf entrance into the mountains, A dungeon site that is a lightly fancy tile box shape with a sing door, Tavern on the world map, a Maze/ labrynth, A collossal tall giant tree that has an extra long trunk and is patched with metal and has a structure running up the tree, Angelic / Paladin like building, Special desert cave that is like aladin's cave of wonder but this is simply not aladin's. Gaint flowers sort of like the giant mushrooms, A giant cactus with an entrance at ground level and maybe windows, Giant spike rocks that shoot upward that can sometimes be slightly diagonal, A Ranch location on the map, A tower supporting a giant human eye ball... These are just some idea that could help....
I really need the large tree with a metal sci fi almost structure goin up through and around the tree.... and of course you don't need to bother with this one if you're not feeling the idea.
Thanks! Got all that written down, very helpful!

It's not every day you see a Grim Reaper themed tileset. It looks fantastic! I really like these more weird tilesets of yours. Keep up the good work!

Looks sick, definitely gonna pick this one up!