KR Legendary Palaces ~ Dryad Tileset for RPGs
A downloadable asset pack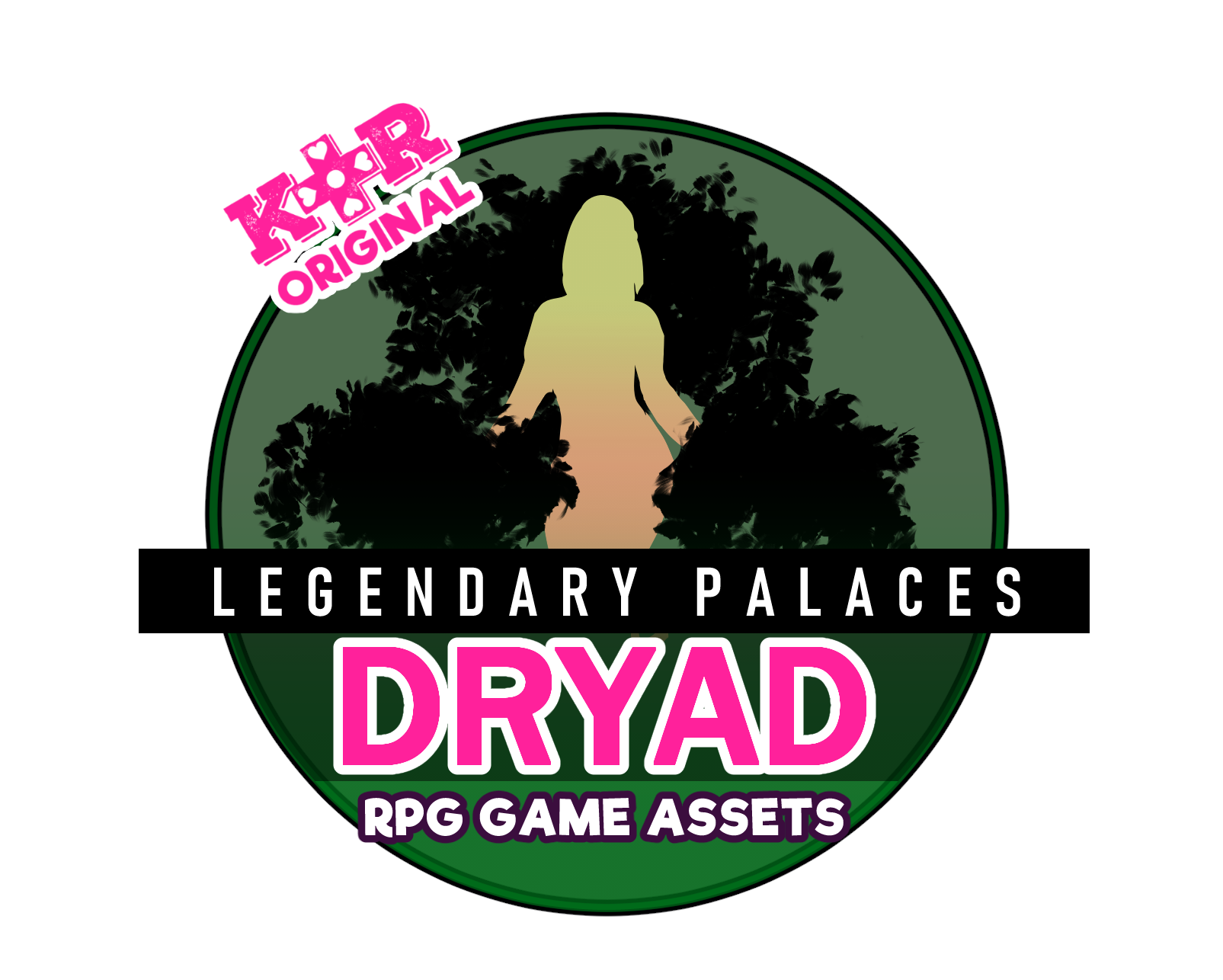 KR Legendary Palaces ~ Dryad Tileset for RPGs
Deep in the woods lies a magical temple…the home of the dryad, guardian of the forest! Grab this Dryad tileset for RPG Maker, Unity, Godot, Tiled and more. Its moody, blended ground tiles allow you to guide players to important areas with bright accent colors that draw attention.
This Dryad Tileset Includes:
Ground Tiles:
Multiple water tiles to keep your palace looking lively and healthy
5 different floor tiles, some with mossy green borders to help with blending
More greenery and edges
2 spike traps and a hole tile
Lilypads
Walls:
Wall tiles in brick, tile, stone and more to match the flooring, also with plain and mossy edges. Includes matching roofs for all wall types.
Also featuring:
stairs to match flooring
small accent pillars
large accent pillars (plain and themed)
plain arch
detailed arch
raised platform
coordinated throne
magical-looking window (small and large)
treasure box (with animated version)
push block
bridge rails
multiple statues – large and small
magic rings
floral accents
flower lantern (lit and unlit)
diagonal stairs
3 designs of ladders
tapestries and valance pieces
shiny pink jewels, plus matching variations (could make nice switches!)
separated pieces so you can create your own designs
plus more!
Events and Animations (RPG Maker format, may work with your engine)
Flowery treasure chest and two fire animations (pink and green) for torches!
Sample Maps (RPG Maker MV/MZ format)
Check out our samples if you need a little inspiration!
The Legendary Palaces Dryad tileset includes 48×48 and 32×32 versions of all tiles. You will receive tilesets formatted for RPG Maker, plus other sheets suitable for use in any engine that can use variable width tilesets.
See our list of engines we've tested here, plus information on compatibility.
Commercial use rights included.
Purchase
In order to download this asset pack you must purchase it at or above the minimum price of $9.99 USD. You will get access to the following files:
Comments
Log in with itch.io to leave a comment.
Hi, I bought this tileset on steam. Will the update be available on steam, too? Thanks
Are you referring to the file I uploaded a couple of days ago? That was to fix a bug that doesn't exist in the Steam version, so you should already have the most up to date copy. :)

Hello Kokoro Reflections,
First want to say everything you make is great. I have been buying your sets for a long time, and watched your art improve. I appreciate your work and look forward to watching you improve further!
I would like to suggest a few tileset themes. An arena (I would prefer Roman Era, but whatever you think would help the most people), a steampunk theme (city), and maybe a themed cities and town series? I hope you continue and do twelve legendary temples and the library idea suggested sounds good, I personally can make do taking pieces of your old sets to create a library if need be but sounds like there is demand. Whatever you do, I will continue to support your work and thank you!
Randall
Celestrium Creations
Great! Added the arena to the request list. I'm adding the library theme to the priority list; you're right, there's a lot of requests for that right now.
Steampunk is also on the way, currently in setup!

Pretty sure you guys aren't short of ideas for packs, but I hope a few more doesn't bother you! PS: Sorry to let this here un the freaking most recent resource pack. I feel like Im asking when you are already giving so much.
Resource pack suggestions:
I really love flowers and how pretty they look in maps. But they normally are a complement rather than the first asset in other packs. So how about a pack about flowers, but with a twist… giant flowers!
Im a really big fanatic for flowers. A forest of giant flowers is an idea I had before and would love to implement someday!
-Giant flower pack: A pack for big flowers (google: Giant fantasy flower to see what I mean xD) to use as decoration in gardens and forest of wonder. To make your own garden of eve or fantasy botanic heaven.
-Exotic flowers inside crystal tubes. Maybe an empty tube so you can put your flower of choice!
-Giant Sunflowers, Tulips, Dahlias, roses, spider lilies (I kill for this one, specially white and red versions), moonflowers, hydrangeas…
-climbing plants, hanging flower baskets. A Mana/cherry blossom tree... or never mind normal flowers, just weird fantasy flowers with twisted stems.
-----
On the other hand:
Fantasy/Elven library: library for all your library places, from royal castle, magic schools, ancinet forbidden library lost in time, etc.
-Wooden/stone floors, ramps and fences
-Big grimoires full of knowledge (open and closed). - Grimoires with covers according to their element (fire grimoire, water grimoire, dark, time, dead… this one was inspired by the statues and dungeons, as you can tell). Aka, elemental books!
-Bookshelves full of books.
- Sealed books (with chains, because it's dangerous forbidden artifact of dark magic)
-book walls to create endless walls of books… or even book houses, who knows.
-Book stands, secret door behind books stands
-library stairs (the ones you put against bookshelves), Y type of staircases to access the second floor and go left and right.
-book stairs, book doors (the last two is made of books, as a fantasy thing that shows up in google and might look neat. maybe)…
-Giant vertical big open book (and close version). Imagine using this big bad boy as a gateway to a faraway land.
-Scrolls because fantasy.
This one would be neat for me because I have a game in the making centered about special books and libraries, but sadly there is not much out there about books, only standard stuff.
Cheers!
It's ok, we welcome all the suggestions. :) Actually I had plans for a tileset very much like the library you describe so that's helpful, it gives me a sense of direction. Actually I noticed someone else had also requested a flower forest as well!

this looks gorgeous and delicate ❤❤
Now I have all the legendary palaces! Idk how a duo could make more than 5 of them but sure hope they do. I think Castle or Fortress ruins should be the best idea yet thanks to rpglover88, this dawned on me. All their idea have been good so I wait patiently.
Oh my gosh! I love your tileset packs soooo much! I dont have a lot of money atm, but as I can spend more, Ill buy the majority of your tileset packs, trust me! ✦.✦

I have one question though. Do you have any plans to make a ruined/destroyed tileset? By that I mean destroyed walls, roofs with holes and other stuff like that. All the tiles that I found on the internet look sooo unnatural. -_-
Thanks so much! We do have plans for ruins, do you need modern or fantasy?
Yes a ruins tileset, that's great because there are so many destroyed goto places on the overworld. one from you would be outstanding.

I simply need something like something for the overworld areas that are Snow Japanese towns and Snowy Japanese Castles. I'm using these things from the overworld map and I don't know how to make the area.
Ok, added these to my notes. :)

yeah the japanese overworld spots for the japanese stuff are found in the in the MV Trinity World Tileset Bs prefaced with the letters C and W. If you check yourself on one of these tiles sets (or the tileset in the Samurai RPG for VX) you'll notice an EVIL japanese castle. That is more important than the snow japanese castle because I can warp the players inside where I can't for the snow japanese town. Also within the MV trinity tiles Is a steampunk city, a White Arabian Castle, a dark church, and a mess of giant thorn vine which I guess people could walk on, get hurt by small thorns, and are blocked by thorns that are too long. It could be a business investment to buy the MV Trinity DLC and see them all for yourself. Doing world map areas would be good since many people would want them do to matching the world map area they are planning on doing (having done the world map or have looked through the world map tiles). There are multiple special Steampunk locations. From the normal Tileset of both MV and MZ is the Volcano, however, you told me you have plans. You have sites marked on your world map including a giant crystal cave you could do... All World Map locations are worth it in my opinion.
Lots of good ideas here...I'll take a closer look at the Trinity set and see. Steampunk's been on our list for a long time and I really need to get that one finished. Actually the thorn area sounds fun as well.

Youre welcome! :D
And thats great! ✦.✦ I really appreciate that youre asking us about what we need. Not many artists are willing to do that nowadays.

To answer your question, tilesets for a fantasy world would be what I need. Thanks a bunch! I cant wait to see the awesome tileset that youre gonna make! I bet its gonna help a LOT of game devs!
Awesome, thanks for getting back to me. I've added that to our request list.