KR Fortress Ruins Tileset for RPGs
A downloadable asset pack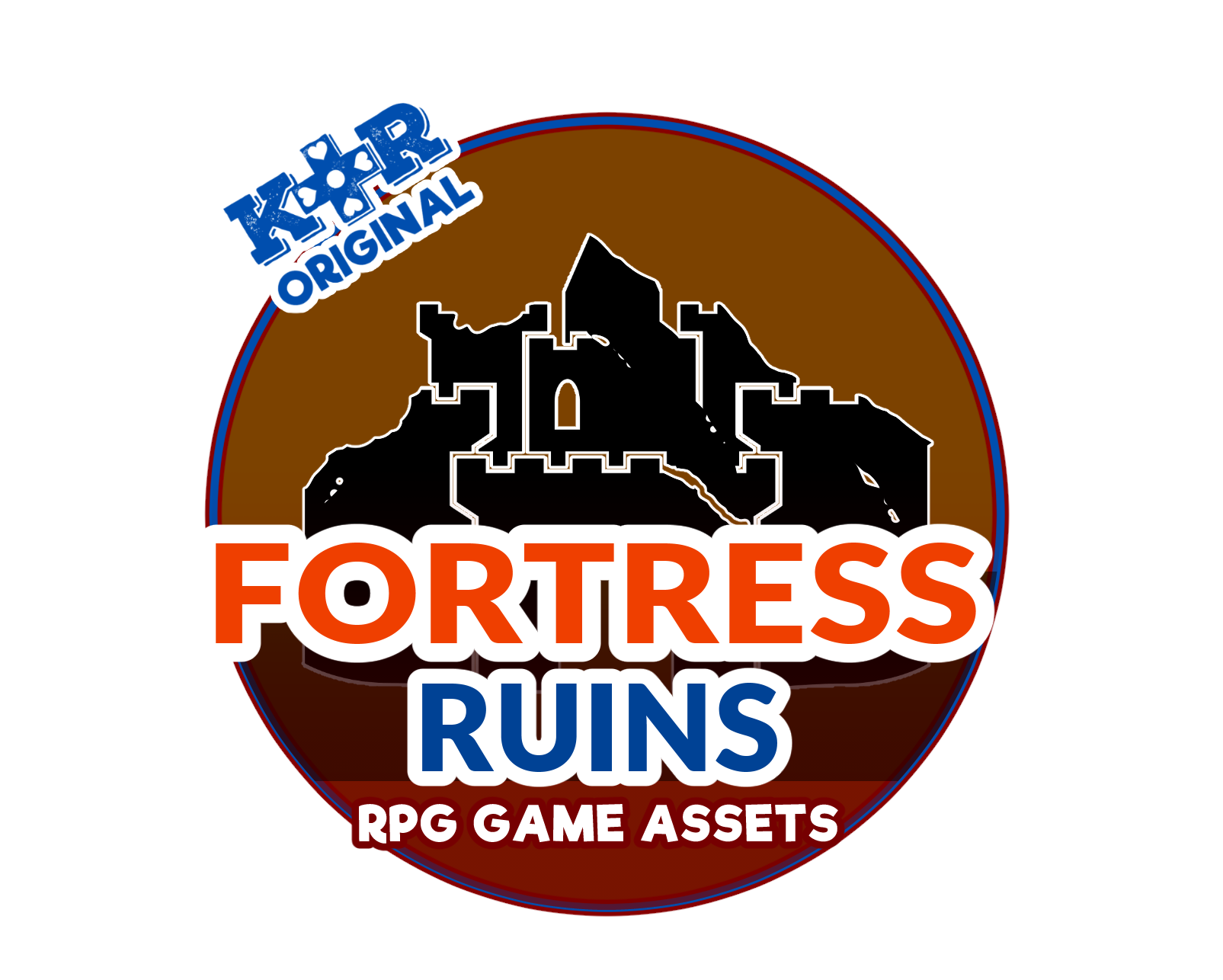 KR Fortress Ruins Tileset for RPGs
What disaster befell this fortress? Was it war, or just time? If you need a castle ruins tileset for your RPG, look no further. Tons of ruined bits and pieces allow you to make an aged, haunted castle, or just the foundation where fortresses and towns once stood.
For RPG Maker, Unity, Godot, Tiled and more.
The ruins tileset includes:
Ground tiles:
grass and dirt tiles
water, blood water and poison water
lava
4 types of stone paths
3 red rugs
two wood paths
spike traps
2 pits
stone fence
ground covers, random stones and wall cracks
2 tables
battlements
Wall Tiles:
two brick patterns (one with notch detail
plain stone wall
roof tiles – plain stone, red and black
Also includes these ruined objects:
staircases (vertical and horizontal, some with matching rugs)
treasure chest
heraldry symbols
flags and wall tapestry
torches
prison with beds, skeletons and more
cracks, dirt and holes
kitchen and kitchen supplies (barrels, wine bottles, cookware, etc)
armory supplies with axes, swords and armor
thrones
beds and other common furniture
windows (lit and unlit, plus angled versions)
rounded pillars and towers, with custom roofs
angled walls
doors and arches
trees
tons of ruined bits and pieces
and more!
Sample Maps (RPG Maker MV/MZ format)
Check out our samples if you need a little inspiration!
Events and Animations (RPG Maker format, may work with your engine)
Levers, fancy door, plain door, cell door, various flames, and treasure chest!
The Fortress Ruins Tileset:
Comes in 48 and 32px
All our tilesets are now available in two tile sizes if applicable - and you get both for one price! Choose what works best for you!
Has High Compatibility
If your engine supports tilesets of different sizes, it will almost certainly work! Download our compatibility kit to be sure! (We also have a list of engines we've already tested.)
It also includes an RPG Maker ready format! (MV/MZ/VX/Ace)
Has Commercial Use Rights
Yes! You can use these tilesets in your game, even if you intend to sell it...and even if the games contain mature themes.
Purchase
In order to download this asset pack you must purchase it at or above the minimum price of $13.99 USD. You will get access to the following files:
Comments
Log in with itch.io to leave a comment.
Hi! Question, I'm assuming it's ok to heavily edit the tiles for use in-game?
HOLY #@$@#$ I was waiting for something like this I needed it. Thank you KR!
Looks great! Do you have an image of the gargoyle?
I don't, I'm sorry! It's heavily damaged though (in keeping with the theme of the set) so if you're looking for a whole gargoyle statue, it's available in the original Royal Fortress, and there's also another, smaller one (with multiple directions) in Holy Saints Cathedral. Sorry about that, I duplicated the Royal Fortress list of items and accidentally left the reference to it in when I really shouldn't have.

Ruined versions of tiles, objects etc are always a plus in my book. Abandoned fortress to explore, clear and make it your own is one of the things I've been looking to do. Purchasing now.