KR Factory Tileset for RPGs
A downloadable asset pack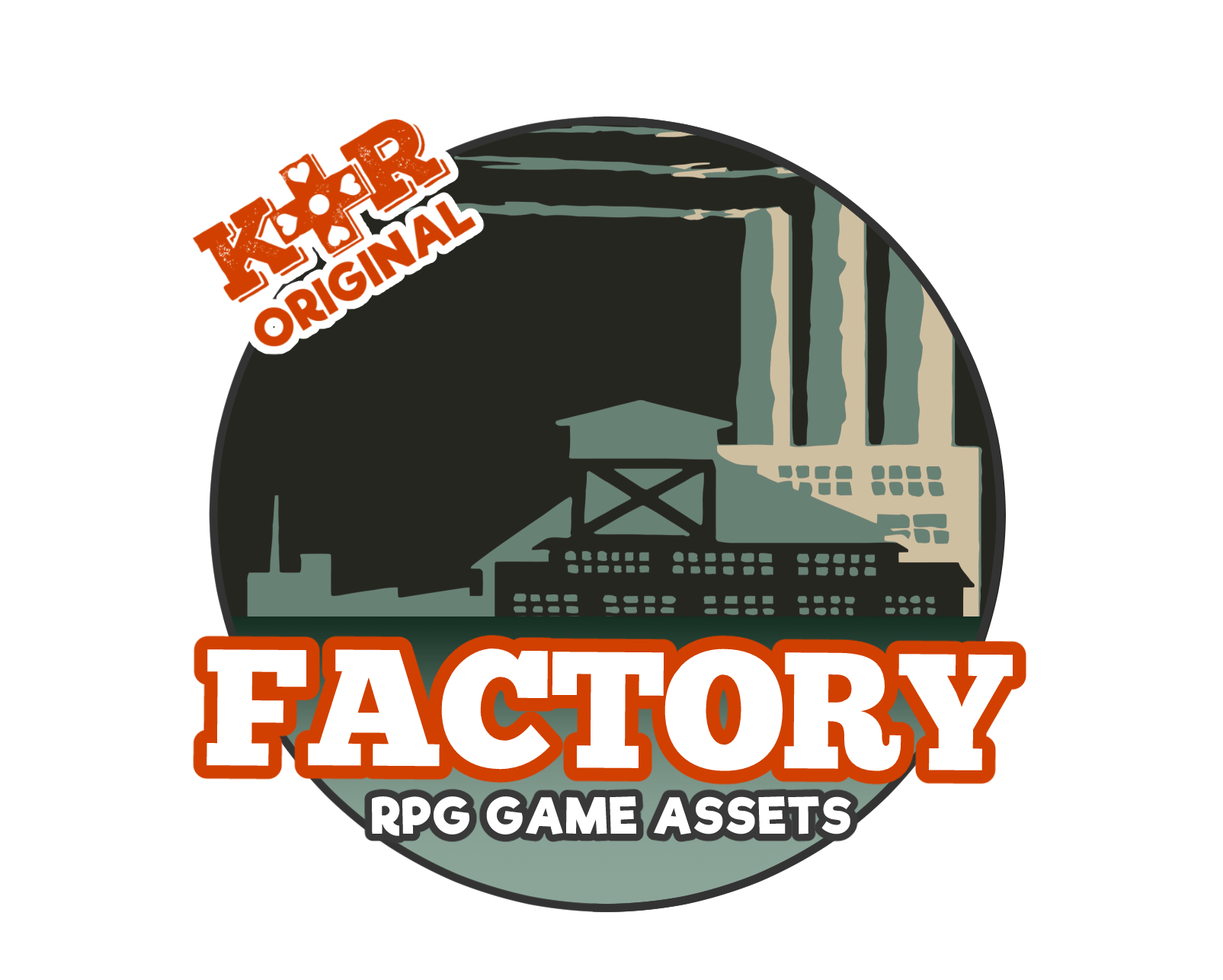 KR Factory Tileset for RPGs
Available for multiple game engines!
Build your own industrial complex! With the factory tileset for RPG Maker and more, you can add factories, refineries, and other modern production lines.
The Factory tileset includes:
Ground tiles:
Animated conveyor belts (RPG Maker format)
Wood floors, 2 tones
Dirt in 4 tones
Asphalt, with and without stripe
Countertop
Chain-link fence
Grunge tiles
Grates and mesh panels
and more!
Walls:
Walls to match flooring, plus windows and flat painted walls
Also included:
Wires and cables
Levers and switches (with animated versions)
Pipe system
Various ladders and platform tiles
Tons of assorted mechanical objects with unknown purpose
Tanks (for gasses or liquids), large and small
Trash bags, cans, dumpsters and skips
Communication towers and satellites
Power lines
Lights and light plants
Fences, railing and staircases
Safety tiles (warning signs, yellow tape, safety cones, etc)
Office tiles, with corkboard, chairs, books, shelves, lockers, etc)
Huge pipes, ducts, tanks and other assorted mechanical objects just waiting for you to decide their purpose!
and more!
Sample Maps (RPG Maker MV/MZ format)
Check out our samples if you need a little inspiration!
Events and Animations (RPG Maker format, may work with your engine)
door animations with lit and unlit interiors
smoke animations
lever and switch animations (several styles)
The Factory Tileset:
Comes in 48 and 32px
All our tilesets are now available in two tile sizes if applicable – and you get both for one price! Choose what works best for you!
Has High Compatibility
If your game engine supports tilesets of different sizes, it will almost certainly work! Download our compatibility kit to be sure! (We also have a list of engines we've already tested.)
It also includes an RPG Maker ready format! (MV/MZ/VX/Ace)
Has Commercial Use Rights
Yes! You can use these tilesets in your game, even if you intend to sell it…and even if the games contain mature themes. See our terms of use for more information.
Purchase
In order to download this asset pack you must purchase it at or above the minimum price of $17.99 USD. You will get access to the following files:
Comments
Log in with itch.io to leave a comment.
I really really wanted a factory. Now I can get one.
Oh wow, I've been needing some factory tiles for a loooong time now! This is amazing, and will be suuuuper helpful to me. I'm totally buying this as soon as I have funds to spare for it!

I'm literally buying all of your futuristic tilesets and I am proud of it XD thanks for your hard work!
Beautiful as always KR, just wondering, what is the next project after this?
Thanks! We have a big update to the Trees and Foliage pack coming with a bunch of new and updated artwork, plus I have a test bundle of coordinated furniture sets I'd like to try out and see what everyone thinks.