KR Deep Ocean Tileset for RPGs
A downloadable asset pack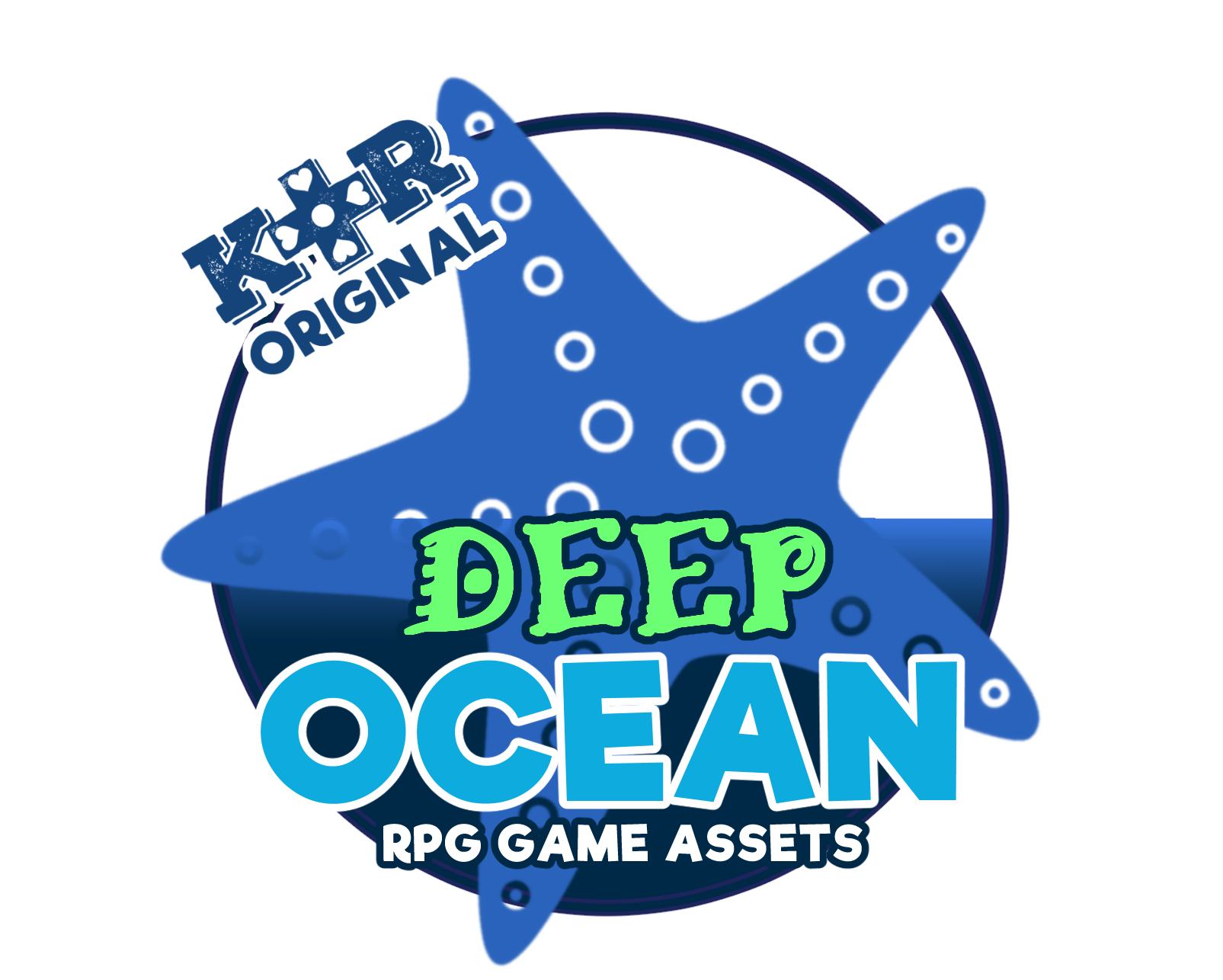 Deep Ocean Underwater Tiles for RPGs!
NEWLY UPDATED with major art updates, sample maps, new edge tiles and more! (But you still get v1 as well!) For RPG Maker, Unity, Godot, Tiled and more!

Headed for the deep blue sea? Take this tileset with you! Features both shallow and deep water versions, so you'll be set for your deep sea submarine expeditions.

---
This Underwater Tileset Includes:
Ground tiles:
4 basic ground types in 3 colors - blue, brown and muddy green
NEW: improved edges on ground tiles for a more natural winding look! Plus special tile edges on E take the natural look even further! Just stamp them on top to make your paths and wall edges.
3 colors of thick grasses and barnacles
cracks and stones
pits
thin grass and moss
4 types of stairs, herringbone tile, wood plank, and rusty metal plate tiles!
Walls:
4 wall types in 3 colors! Includes 4 matching roof types in each color.
Plants:
Over sixty types! Hanging moss, scalable kelp, sea grasses and more will create a lively landscape.
Shells:
Conch, clam, starfish and more!
Coral:
In shades of blue, pink and purple in various sizes - don't forget the brain coral!
Stones and stone structures:
Over forty different rock structures of different shapes and sizes - some are already decorated and ready to go!
Wrecks:
Ships and planes can be either interesting background props or the entry to bigger maps! Plus you get crates, a cannon, anchors, gold pieces, skeletons and more to decorate the wreck areas.
Crystals:
Over fifty of 'em. They make interesting lights if your team is exploring an underwater cave.
Sample Maps (RPG Maker MV/MZ format)
Check out our samples if you need a little inspiration!
This Underwater tileset includes 48x48 and 32x32 versions of all tiles. You will receive tilesets formatted for RPG Maker, plus other sheets suitable for use in any engine that can use variable width tilesets.
See our list of engines we've tested here, plus information on compatibility.
Commercial use rights included.
Purchase
In order to download this asset pack you must purchase it at or above the minimum price of $19.99 USD. You will get access to the following files:
Comments
Log in with itch.io to leave a comment.
Hello,the steam version of this one has no sample project, could you solve it?
Is there a way the sample maps could be made available for non RPG Maker users? (Without of course inadvertently providing copies and taking away from your sales of course). Totally understandable if not!
Hello KR,

I have just purchased your Everything Bundle, and I'm downloading and extracting every package at the moment, and I just found an error, when I extract underwater-ace.zip then I get the error message "The archive is corrupt", all files except the "Underwater_Outside_A4.png" gets extracted, can you re-upload a working underwater-ace.zip file?

You bet! Thanks for letting us know there was a problem, it should all be fixed now. Let me know if you run into any more issues!

How do I make the screen move so that it looks like it is under the water
You would need a plugin for that. I've used a couple of different ones, but it's been so long that I can't remember which ones. :(

don't worry it might not be the same effect as you use but I found a way to make a water effect with an image