KR Alien Worlds Tileset for RPGs
A downloadable asset pack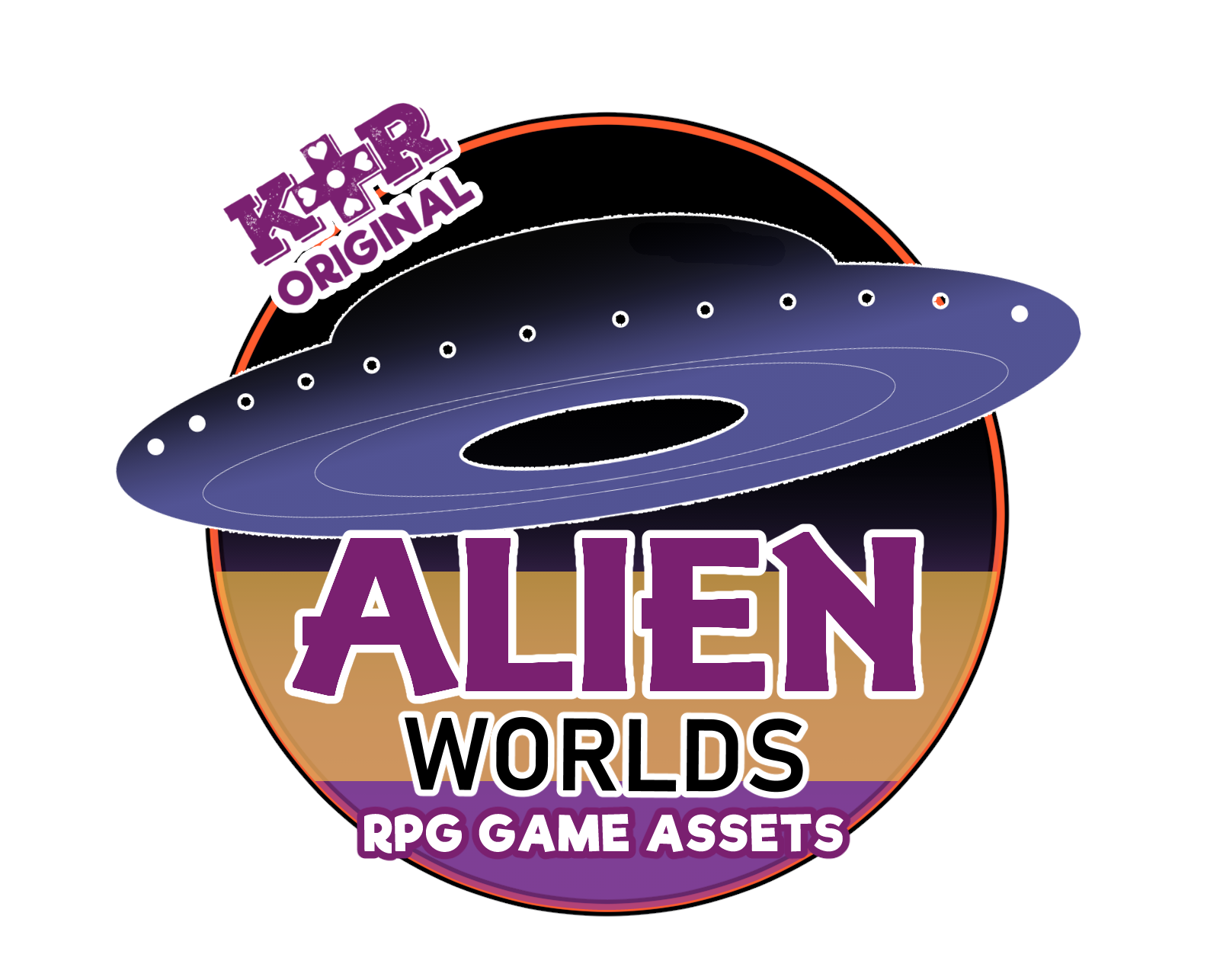 KR Alien Worlds Tileset for RPGs
Explore a mysterious new world for RPG Maker, Unity, Godot, Tiled and more! Ancient technologies and exotic landscapes await in this alien tileset!
Includes:
Ground Tiles:
Glowing purple water
Lava
Crystal accents
Blue grass
Dirt, stone, and grate floors
Grunge tiles
and more!
Includes new, more natural path edges!
Walls:
4 alien walls (with glow), 4 natural rock/brick walls, 3 crystal walls, and a starfield wall for windows.
Also featuring:
A whole file full of glowing purple crystals. Tons of 'em. (Not the same as the ones in Deep Ocean!)
A whole file full of exotic plant life. Not much like anything you'll see on this planet!
Two files of nothin' but alien technology! Over a hundred completely new and unique pieces! And most of it glows. Cool.
Sample Maps (RPG Maker MV/MZ format)
Check out our samples if you need a little inspiration!
The Alien Worlds alien tileset includes 48×48 and 32×32 versions of all tiles. You will receive tilesets formatted for RPG Maker, plus other sheets suitable for use in any engine that can use variable width tilesets.
See our list of engines we've tested here, plus information on compatibility.
Commercial use rights included.
Purchase
In order to download this asset pack you must purchase it at or above the minimum price of $19.99 USD. You will get access to the following files:
Comments
Log in with itch.io to leave a comment.
Seriously I'm so pumped to use it. This has to be one of my favorite I guess I'm just a fan.

You aren't planning on doing a volcano land town. I always want to put a town there and it's a lil tricky to look right.

I was really wondering if you were going to do something in the way of a tower wide enough to want to make a tower set. I think you could design the tower's interior most excellent.
Thank you very much!
Yes! We're planning on having a volcano set in the future. :) What kind of tower do you have in mind?

The classic Mages tower with libraries, artifacts, special spots for magic rituals or magic practice, was hoping for a spiral staircase but i don't think that's feasible unless it's two squares wide. bed rooms. Dorm hall. Vanities, Statues .A cellar with giant crystal and a roof with a portal! :P :)

Other tower option could be the classic Dark Tower with everything dark and a bit scary. Glowing purple or red lights. Lava pit in the center. An organ near the top and at the top a council of darkness with multiple chairs.

May not be the best idea but it's something. I just like towers to put in a game. They have a special presence being a tower.
OK, I'll make a copy of this post and add it to the list. :) I bet we can work something like this in somewhere!
I second the volcanic lands and mage tower! Please add my vote, although I love everything you make!
Sorry to bother with off topic question: Do you guys have plans for a steampunk set? Just curious about it!
No bother at all! Yes, Steampunk should be on the way pretty soon, it's on our high-priority list. :)

Nice! Thanks for the reply!
This tile is pretty cool! Do you perhaps have any future plans of making tiles for stuff like horse racing, things like what you would see at a derby? Another neat thing to see would be science laboratories/mad scientist abodes.
Anyway, thanks for making such awesome tiles! I look forward to seeing more!

Thank you! Mad scientist lair is on the to-do list, never considered making a derby tileset. That could potentially be expanded for lots of kinds of races. Added to the list. :)

Oh wow! What beautiful looking resources. Such an interesting theme, too. It's rare to find alien world\society themed resources. Great job!
It was nicely done! I bought it as soon as I saw it in the notification email! It would be better if you could please check the inquiry email that I sent from alexzhang011008@gmail.com on 5.06 and get back to it? That will be just fantastic.